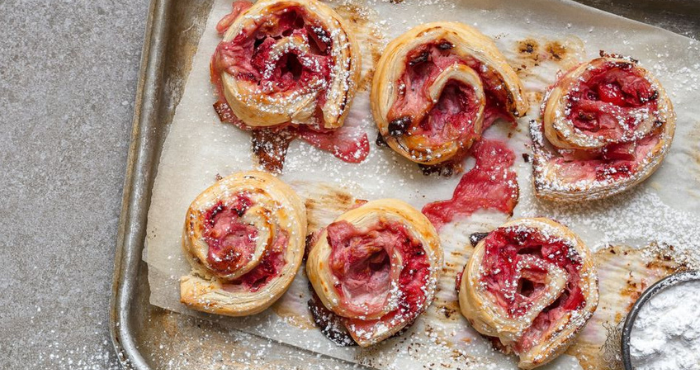 Makes about 24
---
1 x 320g sheet of frozen puff pastry, thawed
200g cream cheese, softened
90g icing sugar
1 tsp vanilla extract
250g strawberries, chopped very small
---
On a lightly floured work surface, roll out the puff pastry into a rectangle measuring around 28 x 35cm.
In a bowl, beat together the cream cheese, icing sugar and vanilla until well combined. Use a spatula to spread the cream cheese mixture evenly across the pastry. Scatter the strawberries over the cream cheese mixture.
With the longer side of the pastry rectangle facing you, roll the pastry up around the strawberries into a long roll. Wrap the roll in cling film and place it in the freezer for 30 minutes, then remove and slice into 1½ cm rounds.
Preheat the oven to 200˚C/180˚C fan/gas mark 6. Line a large baking tray with parchment paper.
Place the pastry spirals onto the lined baking tray and bake for 20 minutes or until lightly golden.
---
Per Serving: 121kcals, 8g fat (3.1g saturated), 10.8g carbs (4.3 sugars), 1.7g protein, 0.4g fibre, 0.058g sodium