Tick the ingredients you need to add your shopping list.
For the icing:
To decorate:
Preheat the oven to 180˚C/160˚C fan/gas mark 4. Grease two 20cm round cake tins and line with parchment paper.

Sift the flour, sugar and baking powder into a large mixing bowl. Beat in the butter until the mixture is just combined.

Whisk together the egg whites, coconut milk, vanilla extract and half of the desiccated coconut. Pour half into the butter mixture and beat for one minute until lightly and fluffy. Repeat with the remaining liquid mixture.

Divide the batter between the tins and bake for 35-45 minutes until a skewer inserted into the centre comes out clean. Leave to cool on a wire rack.

Whisk together the sugar and egg whites for the icing in a heatproof bowl. Place it on top of a saucepan of simmering water (make sure the bowl does not touch the water in the pan). Heat for 6-8 minutes, whisking frequently, until the sugar has dissolved. 

Remove from the heat and transfer to a large mixing bowl. Beat on high with an electric whisk for five minutes until the mixture has cooled and become a light, white, meringue-

like consistency.

Reduce the speed to low and gradually beat in the butter for five minutes until glossy.

Beat in the vanilla and coconut milk. The buttercream may look thin and separated, but continue mixing until it comes together.

Invert one of the cakes onto a serving platter and spread over a layer of the buttercream. Top with the other cake (you can level off the rounded top with a serrated knife if you prefer it perfectly even); spread the rest of the icing over the top and down the sides of the cake. Refrigerate for 30 minutes.

Press the remaining desiccated coconut all around the cake. Top with silver chocolate balls and snowflakes stamped out from ready-to-roll icing before serving.
Nutrition Facts
Per Serving 837kcals, 59.2g fat (43.5g saturated), 74.4g carbs, 49.3g sugars, 9.2g protein, 5.6g fibre, 0.294g sodium
Popular in Cakes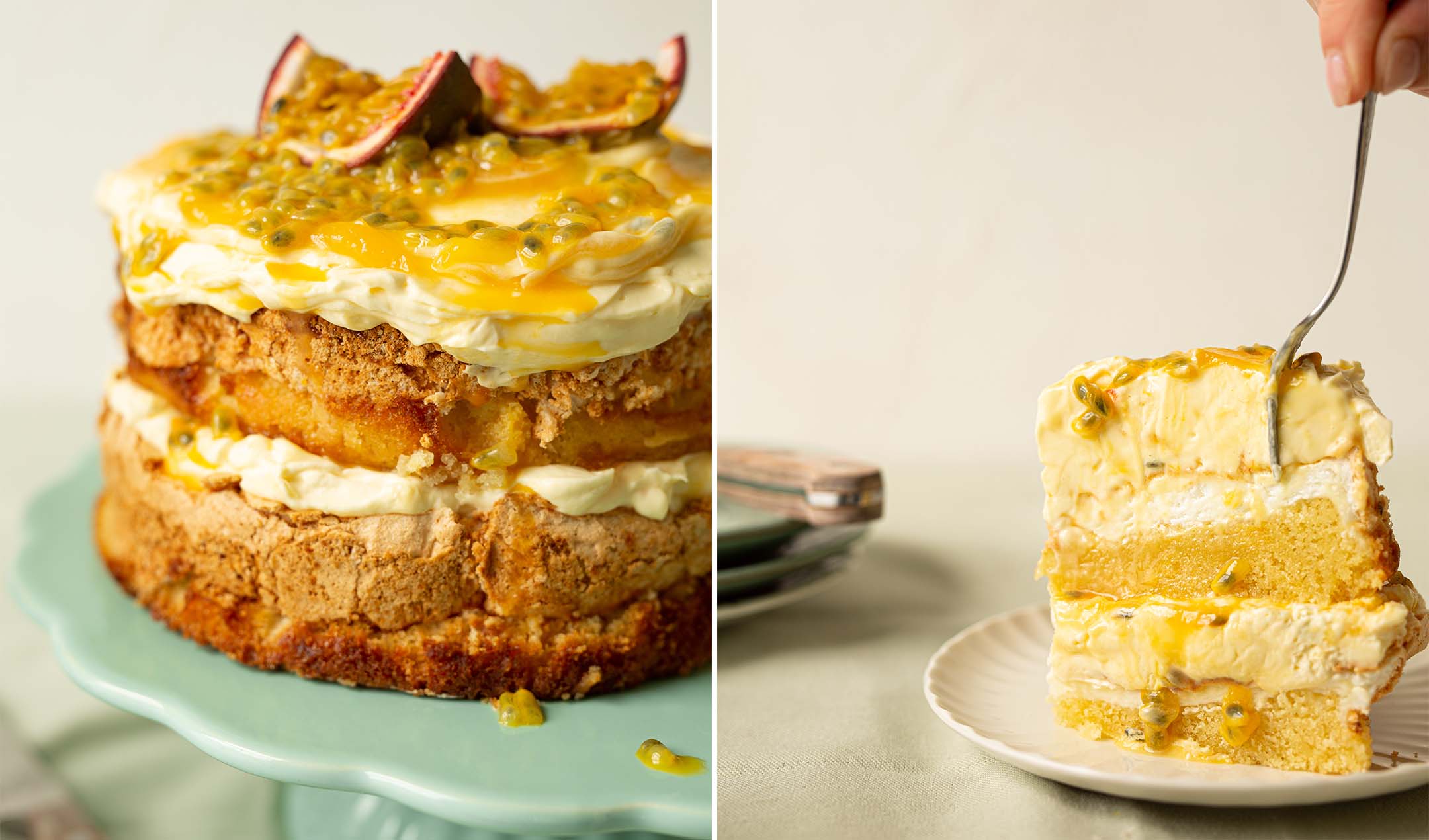 Passionfruit meringue gateaux