Tick the ingredients you need to add your shopping list.
For the sponge:
For the buttercream:
To decorate:
Preheat the oven to 180 ̊C/160 ̊C fan/gas mark 4. Line four 20cm cake tins with non- stick parchment paper.
In a large bowl, beat together the butter and sugar until light and fluffy. Add in the egg whites and beat until combined.
Beat in the sour cream and vanilla. The mixture may look curdled, but don't worry.
Scrape down the sides and add the flour, baking powder, bicarbonate of soda and salt. Add the coconut milk and mix until combined. Fold in the desiccated coconut and mix until there are no lumps left.
Divide the mixture evenly amongst the prepared tins and bake for 20-25 minutes or until a skewer inserted in the centre comes out clean. Allow the sponges to cool completely.
For the buttercream, beat together the icing sugar and butter until smooth. Add the cream cheese and beat again.
Add the coconut milk and vanilla and beat until smooth. If the icing is too thin, add more icing sugar; if it is too thick, add a splash of coconut milk.
To assemble, place the first sponge layer on a cake stand or serving plate. Spread over some of the buttercream and place the next sponge on top. Continue to stack and spread each of the sponges.
Use a palette knife or offset spatula to spread half of the buttercream over the top and sides of the cake, making sure to fill in any gaps. Refrigerate for 30 minutes to set.
Once set, spread over more buttercream to cover any crumbs and smooth the icing; reserve some of the buttercream to pipe swirls on the top.
While the icing is still wet, use your hands to press the desiccated coconut around the top and sides of the cake, until completely covered. Allow to chill in the fridge for five minutes.
Using a piping bag with a star-shaped nozzle, pipe swirls of the remaining buttercream icing around the top edge of the cake. Place a Ferrero Raffaello chocolate on top of each buttercream swirl.
Nutrition Facts
Per Serving 769kcals, 46.5g fat (33.3g saturated), 86.9g carbs (67.7g sugars), 6.6g protein, 3.7g fibre, 0.45g sodium
Popular in Cakes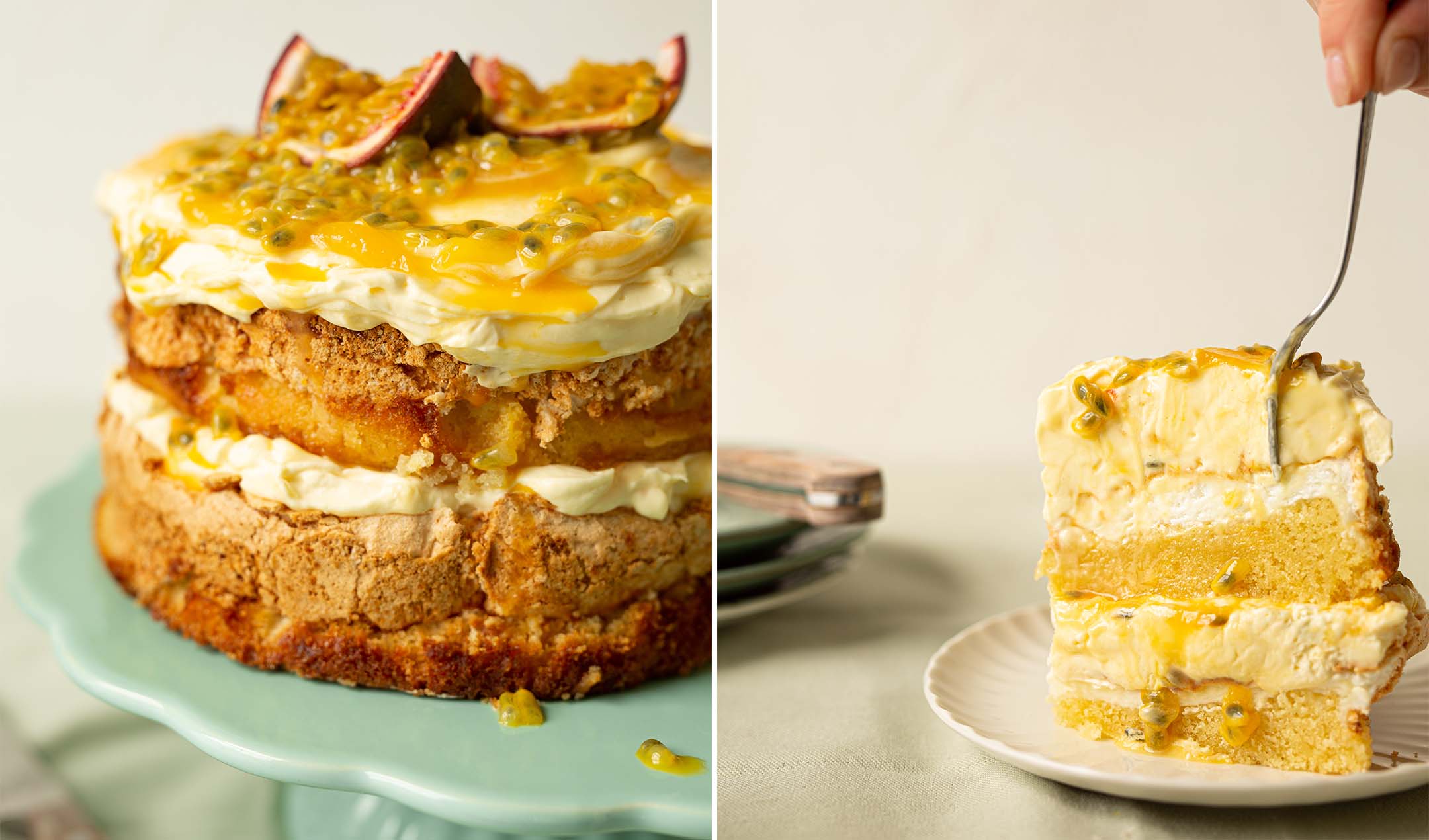 Passionfruit meringue gateaux