Tick the ingredients you need to add your shopping list.
For the base:
For the caramel:
For the topping:
Preheat the oven to 180˚C/160˚C fan/gas mark 4 and line a 20cm square tin with parchment paper. Allow the paper to hang over the edges of the tin; this makes it easier for removing the bars when ready.
Stir the flour, salt and sugar in a mixing bowl. Add the softened butter and use your  fingertips to rub the butter into the flour and sugar mixture until a crumbly dough forms. Firmly press the mixture into the base of the lined tin, trying to get it as even as possible.
Bake for 20-25 minutes or until lightly golden on top.
Remove from the oven and set aside to cool while you make the caramel.
Combine all of the caramel ingredients in a saucepan over a low heat. As the butter melts, give it a little stir. Keep it on a low, steady bubbling simmer; this will take about 15 minutes. You'll want to stir this often to prevent the caramel from sticking and burning in the pan. After 15 minutes, the caramel will turn very thick. Be patient; this does take a while, but it's worth the wait — give it another minute or two if it needs it.
Pour the thick caramel quickly over the base. Use an offset spatula or the back of a spoon to quickly spread out the caramel, making sure it's even. Set aside to cool for 30 minutes, then refrigerate for an hour until fully set.
Melt the chocolate in the microwave on a medium setting in 15-second bursts, stirring in between each burst.
Pour the melted dark chocolate over the set caramel and tilt the pan to evenly coat; try to get it as smooth as possible. Tap the tin on the work top a few times to flatten the chocolate and to remove any unwanted air bubbles.
Add the melted white chocolate into a piping bag, snip off the tip and pipe horizontal stripes of the white chocolate across the top. Drag a skewer up and down the surface of the chocolate, perpendicular to the lines that you just piped to create the feather effect. Refrigerate for an hour to set.
Remove from the tray, cut into slices using a sharp knife, wiping between each cut.
Nutrition Facts
Per serving: 392kcals, 22.2g fat (14.1g saturated), 45.1g carbs (28.1g sugars), 4.7g protein, 0.8g fibre, 0.166g sodium
Popular in Dairy-free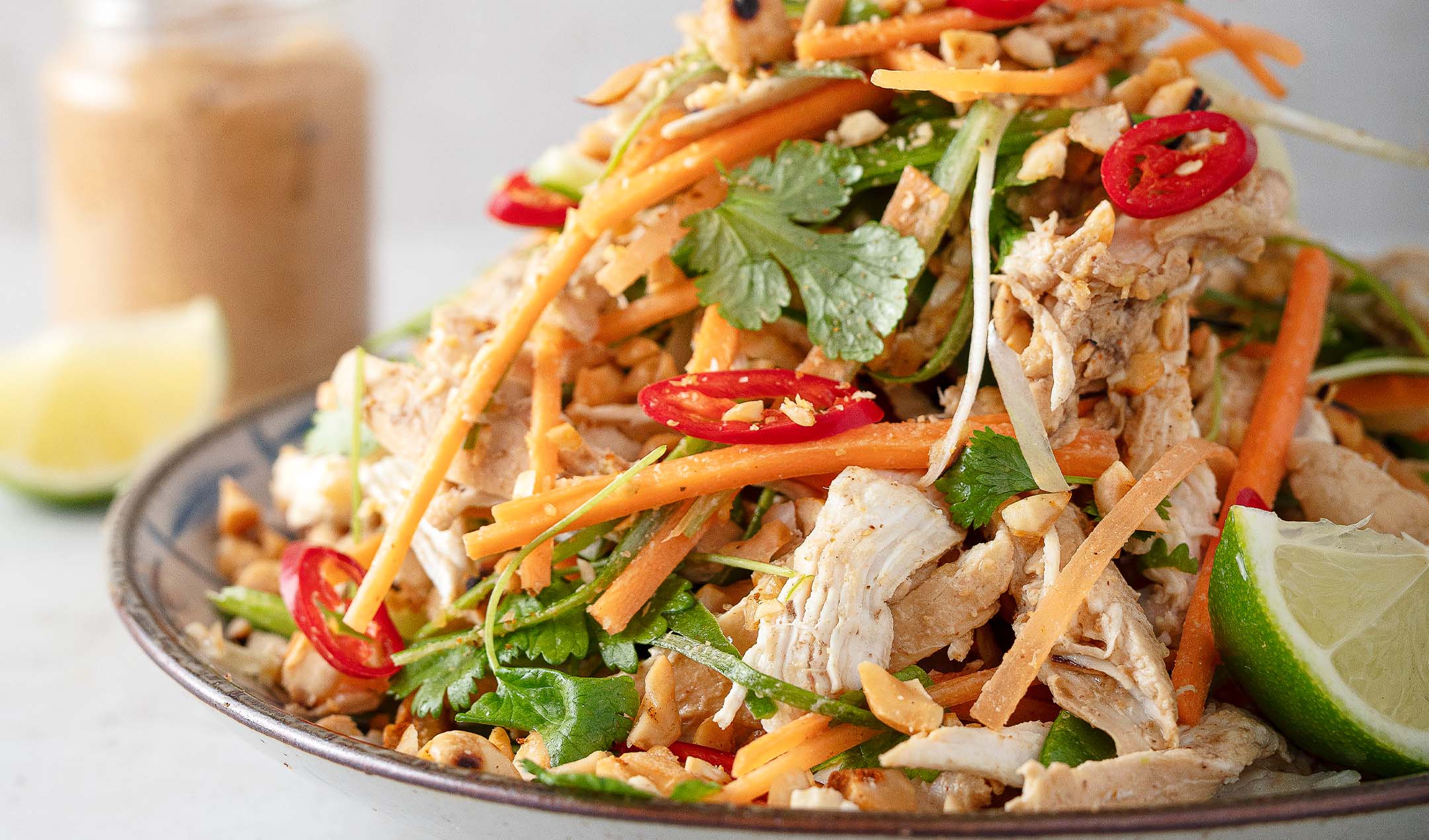 Peanut chicken salad