Tick the ingredients you need to add your shopping list.
For the salmon burgers:
For the dressing:
For the salad:
To serve:
---
In a small bowl, mix the shallots and parsley and set aside two tablespoons of the mixture for the dressing.
Heat a drizzle of olive oil in a pan over a medium-high heat and cook the remaining shallots and parsley for 2-3 minutes.
Place the salmon in a bowl and add the quinoa, egg and egg white, coriander, lemon juice and the sautéed shallots. Season the mixture and shape into four patties.
Heat a tablespoon of olive oil in a pan over a medium-high heat. Cook the salmon burgers, one at a time, for 4-5 minutes per side until golden brown and fully cooked.
Place all the dressing ingredients in a jar along with the reserved shallots and parsley and shake until combined. Set two tablespoons of the dressing aside and toss the rest in a bowl with the salad ingredients.
Divide the salad between plates and top with the salmon burgers. Mix the reserved dressing with the plain yoghurt or mayonnaise to make a quick sauce, and drizzle over the burgers to serve.
Note: Mayonnaise can be used as an alternative to Plain Yoghurt, if you wish.
Nutrition Facts
Per serving: 493kcals, 25.1g fat (3.8g saturated), 37.2g carbs, 3.8g sugars, 32.4g protein, 4.8g fibre, 0.295g sodium
---
TOP TIP: For a cheaper option, you could use tinned salmon instead.
Popular in Fish & seafood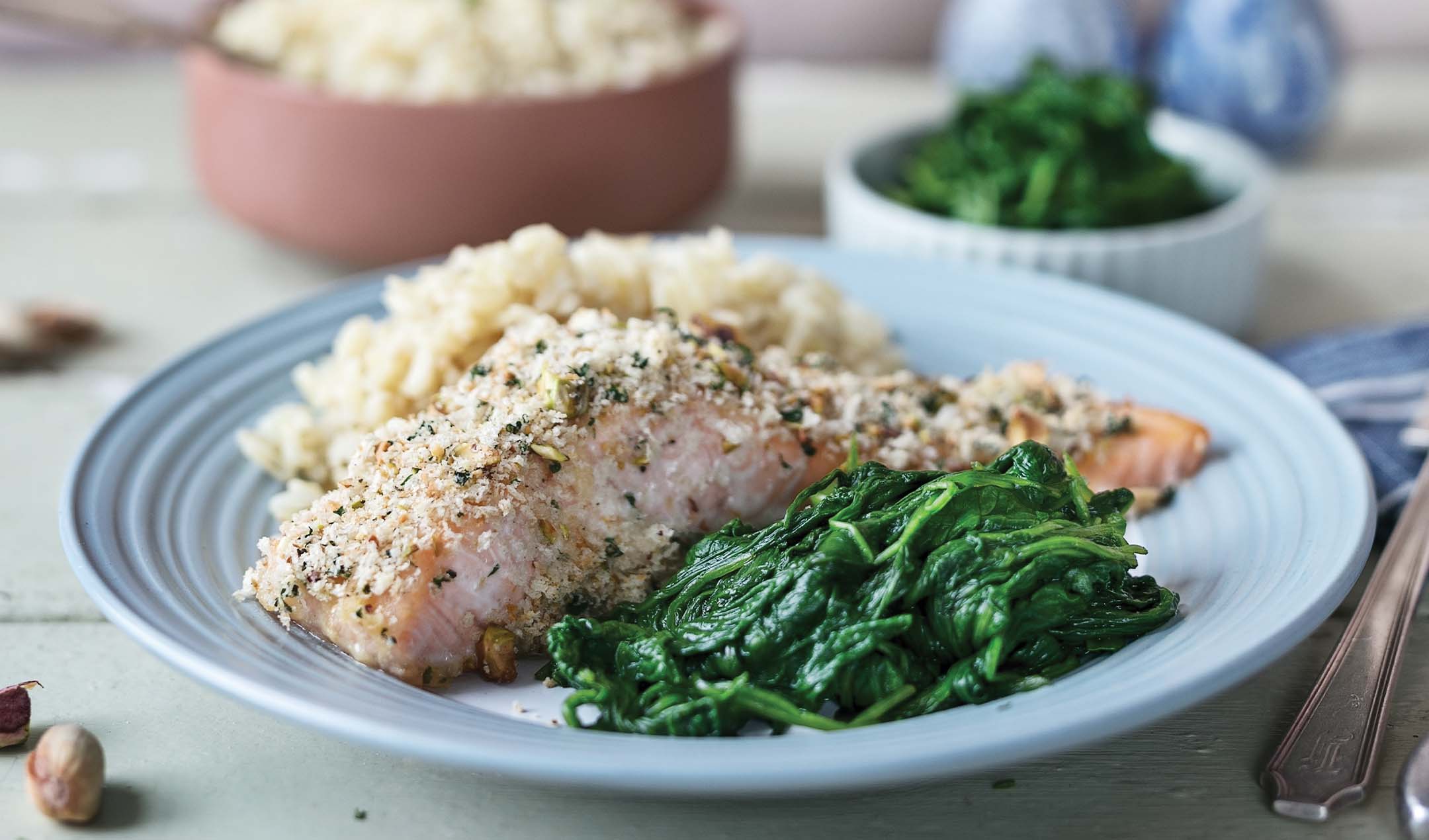 Pistachio crumbed salmon