Tick the ingredients you need to add your shopping list.
For the pastry:
For the custard:
For the rhubarb compote:
Put the plain flour in a bowl and rub in the butter with your fingertips until the mixture resembles fine breadcrumbs. Mix in the icing sugar, cocoa powder and a pinch of salt, followed by the egg yolk. If the pastry feels too dry to form a dough, add one tablespoon of cold water. Bring together into a dough, then form into a ball. Wrap it in cling film and chill for about 30 minutes before using.
Meanwhile, make the custard. Beat the egg yolks and sugar for a few minutes until pale and slightly thickened. Whisk in the flour and custard powder.
Heat the milk in a saucepan until just beginning to boil. Whisk the hot milk into the egg mixture, then transfer back into the pan, stirring all the time until thick and boiling. Remove from the heat and cover with cling film to prevent a skin from forming.
Put the rhubarb into a saucepan with the orange zest, juice, sugar and a small splash of water. Bring to the boil, then reduce the heat and simmer for 8-10 minutes until the rhubarb is cooked but still ideally still holds its shape.
Preheat the oven to 180˚C/160˚C fan/gas mark 4.
Remove the pastry from the fridge. Grease six 10cm tartlet tins with butter, line with parchment paper and fill with baking beans. Bake for 15 minutes, then remove the parchment paper and baking beans and return to the oven for five minutes until very golden and crisp. Remove from the oven and allow to cool.
Add a few tablespoons of thick custard to each tartlet, then top with stewed rhubarb.
Nutrition Facts
Per serving: 407kcals, 15.7g fat (8.6g saturated), 60.5g carbs (33.8g sugars), 7.6g protein, 2.3g fibre, 0.036g sodium
Popular in Pastry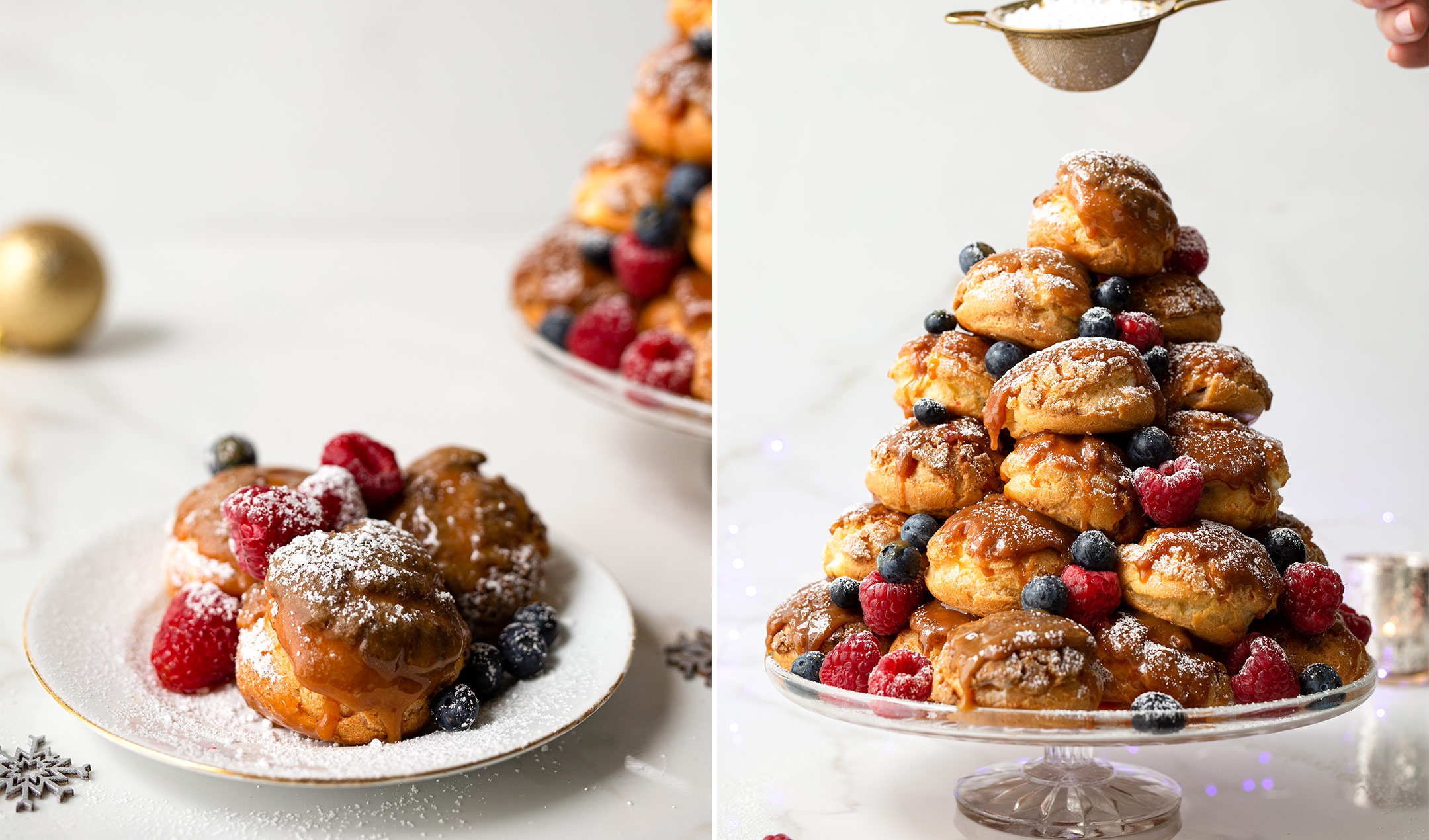 Croquembouche tower with berries