Tick the ingredients you need to add your shopping list.
---
Preheat oven to 220˚C/200˚C fan/gas mark 7 and line a baking tray with parchment paper.
Season the pork tenderloin with salt, pepper and the dried thyme. Set aside.
Roll out the pastry dough so that it is as long as the pork and wide enough to fully wrap around it.
Arrange the prosciutto so that there is a thin layer covering the dough. Spread the mustard over the top.
In a large pan over a medium-high heat, melt the butter with the olive oil. Cook the mushrooms and shallots for 6-8 minutes, stirring occasionally, until golden brown. Remove and set aside.
Add the seasoned pork to the hot pan and brown on all sides.
Spread the mushroom mixture over the prosciutto in a single layer. Place the seared pork on top. Roll the pork up in the pastry and seal the edge with beaten egg.
Place the Wellington on the prepared baking tray, seam side down. Brush the top of the dough with the egg and cut 3-4 slits in the top to release steam.
Bake for 25-30 minutes until cooked throughout. Allow the Wellington to rest for five minutes, then slice and serve with roasted vegetables.
Nutrition Facts
Per serving: 776kcals, 44.9g fat (12.7g saturated), 39.1g carbs, 1.8g sugars, 53.1g protein, 2.1g fibre, 0.664g sodium
Popular in Low sugar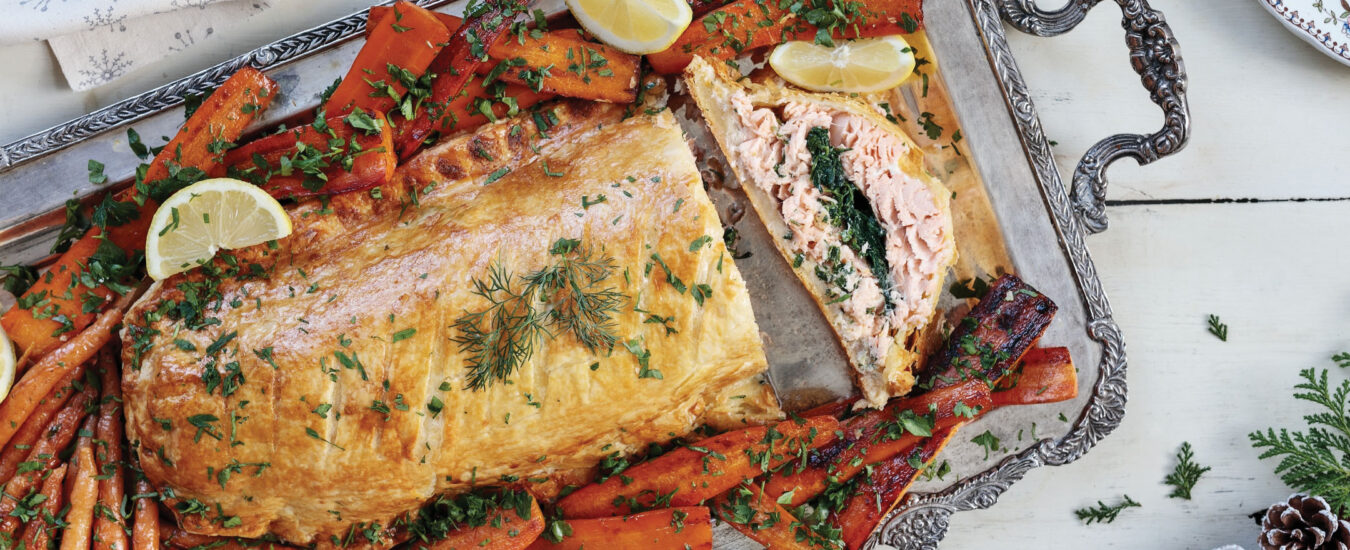 Salmon en croute