Tick the ingredients you need to add your shopping list.
For the peri peri marinade:
For the spicy sweet potato wedges
To serve
For the marinade, add all of the ingredients to a food processor and blend until smooth. Set aside
To spatchcock the chicken, place the chicken on a chopping board, then with a large kitchen knife cut down the back bone and flatten the chicken or alternatively ask your local butcher to do this for you.
Spread half of the marinade over the spatchcocked chicken then cover and leave in the fridge for 20 minutes to marinate.
Preheat the oven to 180°C/160°C fan/gas mark 4
In a large griddle pan, heat the olive oil on a medium to high heat. Once the pan is hot, place the chicken, breast-side down and sear for a good 5-6 minutes, until the skin becomes golden browned. Flip and sear on the other side for a further 5 minutes.
Place the chicken onto a tray cook on the middle shelf for 55-60 minutes. To check if the chicken is cooked, pierce the chicken and the juices of the chicken should run clear and it should be steaming hot with no pink meat.
For the wedges, using a sharp knife, cut the sweet potatoes into thick wedges, leaving the skin on. Cook the potatoes in a pot of salted boiling water until not too soft. They should still have a slight crunch.
Once cooked, drain well and put onto a large baking tray. Drizzle on the oil and sprinkle on the spices. Shake the tray to coat the wedges. Season with salt and pepper.
Bake for 15-20 minutes or until golden.
Serve the chicken, wedges and warm pita breads.
Note: Garlic can be used as an alternative to cloves, if you wish.
Nutrition Facts
Per serving: 813kcals, 34.4g fat (6.8g saturated), 63.6g carbs (5.3g sugars), 61.5g protein, 9.9g fibre, 1.527g sodium
---
Tip: This recipe can also be made for 2 by halving the peri peri sauce and buying a smaller chicken.
Popular in Chicken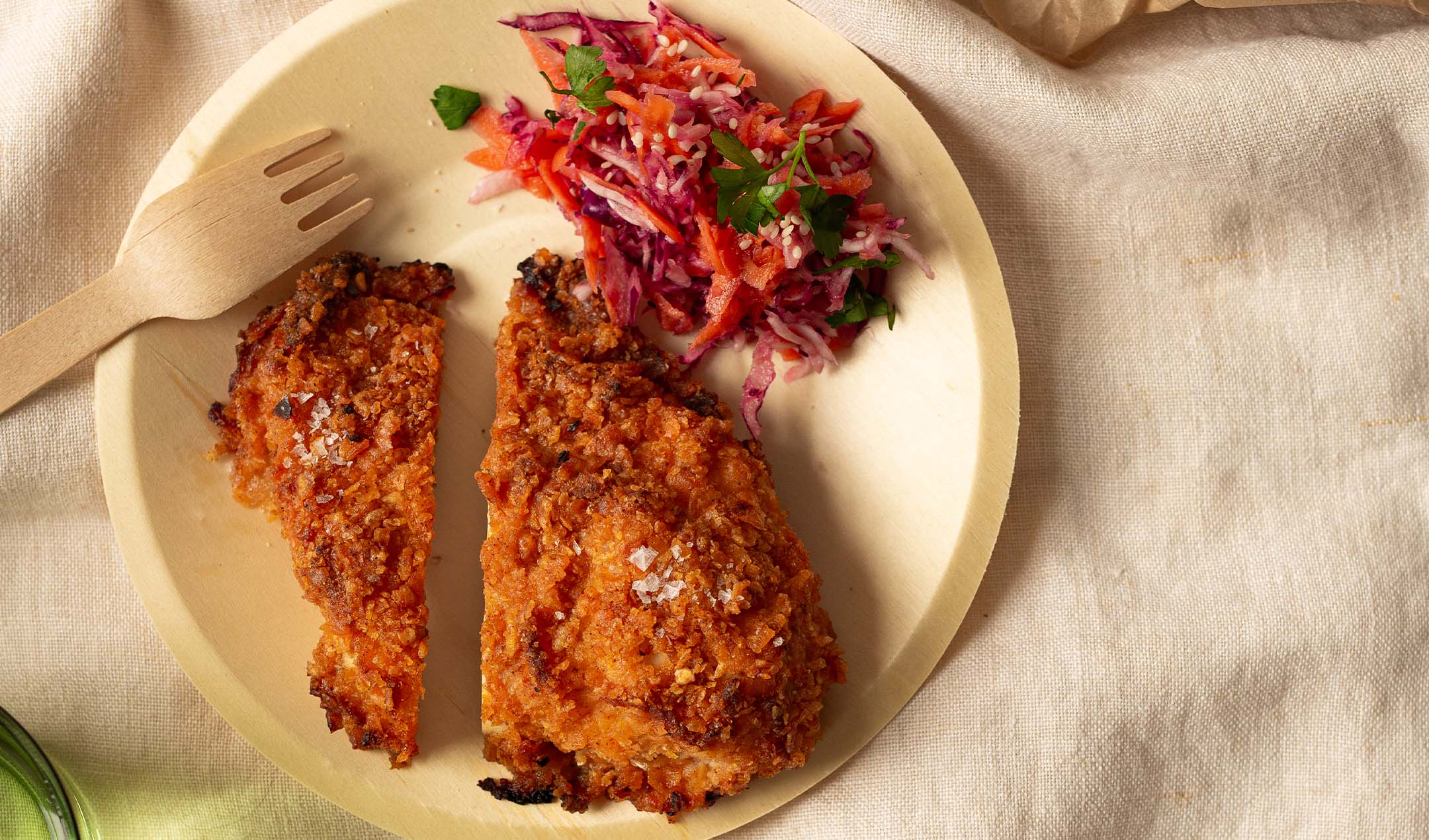 Easy fried chicken and asian slaw