Tick the ingredients you need to add your shopping list.
For the flatbreads:
To assemble:
In a bowl, combine the ras el hanout, yoghurt and lemon juice. Season with salt and pepper, add the chicken and allow to marinate for 30 minutes.
For the flatbreads, combine the flour and salt in a large bowl. Stir in the yoghurt and bring together to form a soft dough.
Turn the dough onto a floured surface and give it a quick knead until the smooth.
Divide the dough into four pieces, cover and leave to rest for 20 minutes.
Heat a griddle pan over a high heat and brush with oil. Add the marinated chicken and cook for 12-15 minutes until completely cooked throughout, turning regularly. Transfer to a plate, tent loosely with foil and allow to rest for 3-5 minutes.
On a floured surface, roll out each piece of dough into circles about 20cm in diameter. Brush each flatbread with some olive oil on both sides.
Cook the flatbreads on the griddle pan for 2-3 minutes per side or until golden in colour. Place each flatbread on a plate and cover with a clean tea towel to keep warm while you cook the others.
To serve, spread each flatbread with hummus and top with rocket. Add the cooked chicken and drizzle with harissa paste. Scatter over some chopped chillies and fresh coriander before serving.
Nutrition Facts
Per serving: 603kcals, 19.4g fat (1.4g saturated), 59.2g carbs (0.8g sugars), 42.2g protein, 4.8g fibre, 0.749g sodium
Popular in Chicken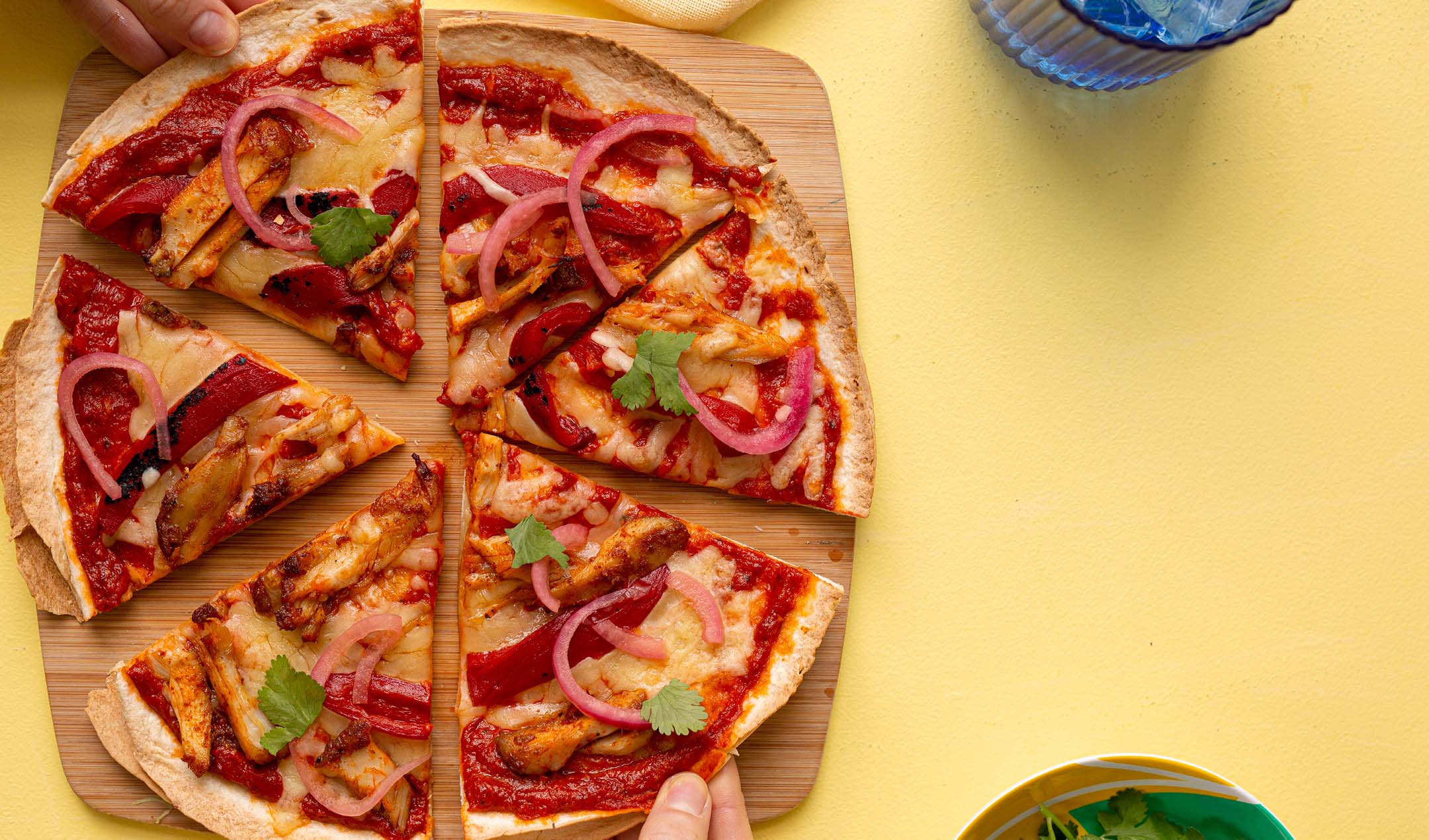 Chicken taco pizzas