Tick the ingredients you need to add your shopping list.
Cook the brown rice according to package instructions.
In a bowl, whisk together three tablespoons of the soy sauce with the honey, five spice and lime juice. Add the salmon and turn to coat. Set aside to marinate at room temperature for 10 minutes.
Meanwhile, line a baking tray with tin foil and turn the grill on to a high heat.
Transfer the salmon to the prepared baking tray, skin side-down. Place under the hot grill for five minutes until just cooked through. Set aside.
In a large saucepan, combine the water with the remaining tablespoon of soy sauce and the ginger. Bring to a boil, then reduce to a simmer and cook gently for 10 minutes. Remove the ginger with a slotted spoon and discard.
Whisk in the miso paste, then add the spring onion whites, garlic, mushrooms and pak choi. Cook for 2-3 minutes until the mushrooms are tender.
Use a cup to mound the hot brown rice into the centres of four wide, shallow bowls. Ladle the vegetables and miso broth around the rice.
Gently flake in the salmon and top each portion with the spring onion greens, the seaweed strips and a generous sprinkling of sesame seeds. Serve with hot sauce, if desired.
Nutrition Facts
Per Serving: 596kcals, 19.1g fat (3.5g saturated), 53.8g carbs (9.5g sugars), 47g protein, 8.6g fibre, 5.61g sodium
Popular in Fish & seafood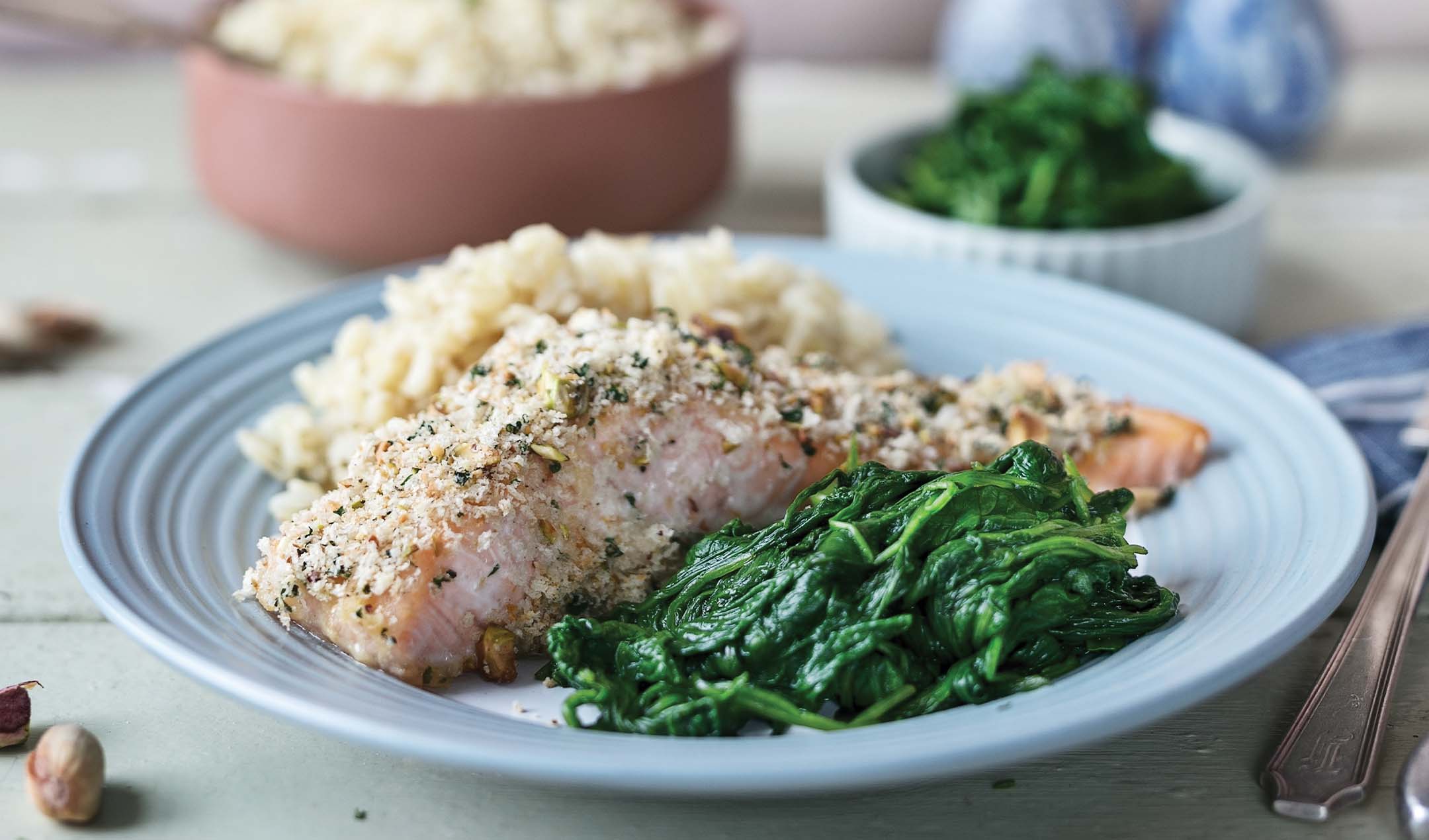 Pistachio crumbed salmon