Tick the ingredients you need to add your shopping list.
Place a silicone muffin pan on a baking sheet. Blitz the digestives in a food processor or crush them in a plastic bag with a rolling pin until they're finely crumbled. Mix them in a bowl with the melted butter. Divide the biscuit crumbs into the bottom ¼ of the muffin pans and press them firmly to form your cheesecake crust.
Place the cold water in a small bowl and sprinkle the gelatine on top. Whisk them together, then let the bowl sit for 5 minutes so the gelatine can hydrate and absorb the water. Once it feels very firm, microwave it for 10-15 seconds, until fully melted and liquid.
Put the cream cheese in the bowl of a large stand mixer fitted with a paddle attachment, and beat it until it is smooth, creamy, and free of lumps. (A hand mixer can also be used.) Add the sugar, vanilla bean paste, and salt, and mix well, scraping the bottom and sides of the bowl occasionally.
With the mixer running on low speed, gradually add the heavy cream, mixing until everything is smooth and well-combined. Finally, add the liquid gelatine and mix it in. Finish mixing by hand, scraping the sides and bottom well.
Divide the cheesecake into 4 portions (each should be about 200g, if you want to measure them out.) Stir a few drops of Dr. Oetker Food Colour Gels into each one and mixing until the colour is smooth and uniform.
Take your first colour and divide it between the 9 cavities-using a spoon, or even pipe the cheesecake in if you want to be really precise. Spread it into a smooth layer with the back of a spoon, then add a second colour on top of the first.
Continue to layer the cheesecake colours until all 4 of them have been added to the pan. It's important to work fairly quickly during this step, so the cheesecake colours don't start to set too much and become difficult to spread.
Smooth the tops of the cheesecakes, then place them in the freezer for at least 2 hours to firm up. They should feel very solid to the touch before you try to unmould them.
To unmould, press from the bottom of one of the cavities and turn it upside-down, pushing the cheesecake out into your hand. Let them sit at room temperature for 30 minutes to defrost before serving.
To decorate, top each cheesecake with a swirl of whipped cream, and plenty of sprinkles.
Store the cheesecakes, well-wrapped, for up to 4-5 days in the refrigerator. Serve chilled but not frozen.
Popular in Easter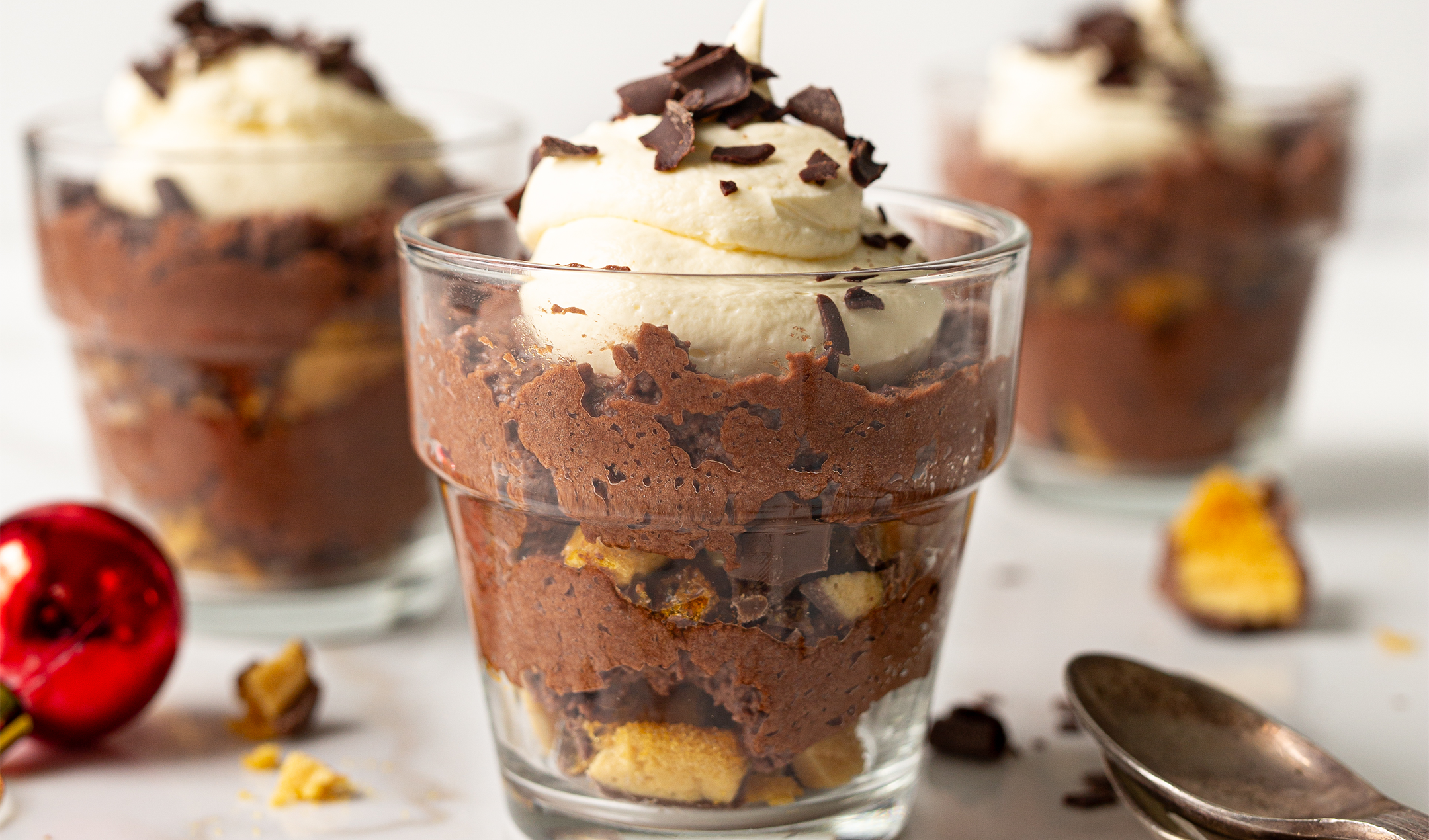 Gluten-free chocolate and honeycomb mousse by EUROSPAR