Tick the ingredients you need to add your shopping list.
For the sponge
For the buttercream
To decorate
Preheat the oven to 180 oC/160oC fan/gas mark 4. Line two 20cm cake tins with non-stick parchment paper.

In a large bowl, beat butter and sugar together until light and fluffy. Add the eggs one by one, beating in between each addition

Sift the flour, baking powder, mixed spice, and cinnamon together. Gently fold half the mixture into the cake batter. Add a splash of the milk and mix well. Repeat with the rest of the dry ingredients and remaining milk until smooth. Add the mincemeat and gently fold in to batter until combined.

Divide the batter between the prepared cake tins. Bake for 20-25 minutes or until a skewer inserted into the centre comes out clean. Allow to cool completely.

In a large bowl beat the butter until light and fluffy. Add the icing sugar gradually, beating until smooth. Add the vanilla, half the custard, and cinnamon, and mix until smooth.

To assemble the cake, place the first sponge layer on a cake stand or serving plate. Spread a thick layer of buttercream over the sponge and using an offset spatula or a spoon, create a ridge around the edge with a dip in the middle. Fill this with the remaining fresh custard. Smooth it out and add the next sponge on top.

Use a palette knife or offset spatula to spread the buttercream over the top and sides of the cake. Smooth with a flat scraper or palette knife, making sure to fill in any gaps. Refrigerate for 30 minutes to set.

Remove from the fridge and to decorate, push a small bead of buttercream onto the side of the cake and drag out to the right using a palette knife or the back of a small spoon. Repeat this process the whole way around the cake to create layers. Refrigerate for 20 minutes to slightly set. 

Scatter Christmas sprinkles around the bottom rim of the cake, and place mince pies on top. Finish with a dusting of icing sugar.
Nutrition Facts
Per serving 805kcals, 33.6g fat (19.8g saturated), 122.3g carbs (105.2g sugars), 4.9g protein, 1.2g fibre, 0.258g sodium 
Popular in Cakes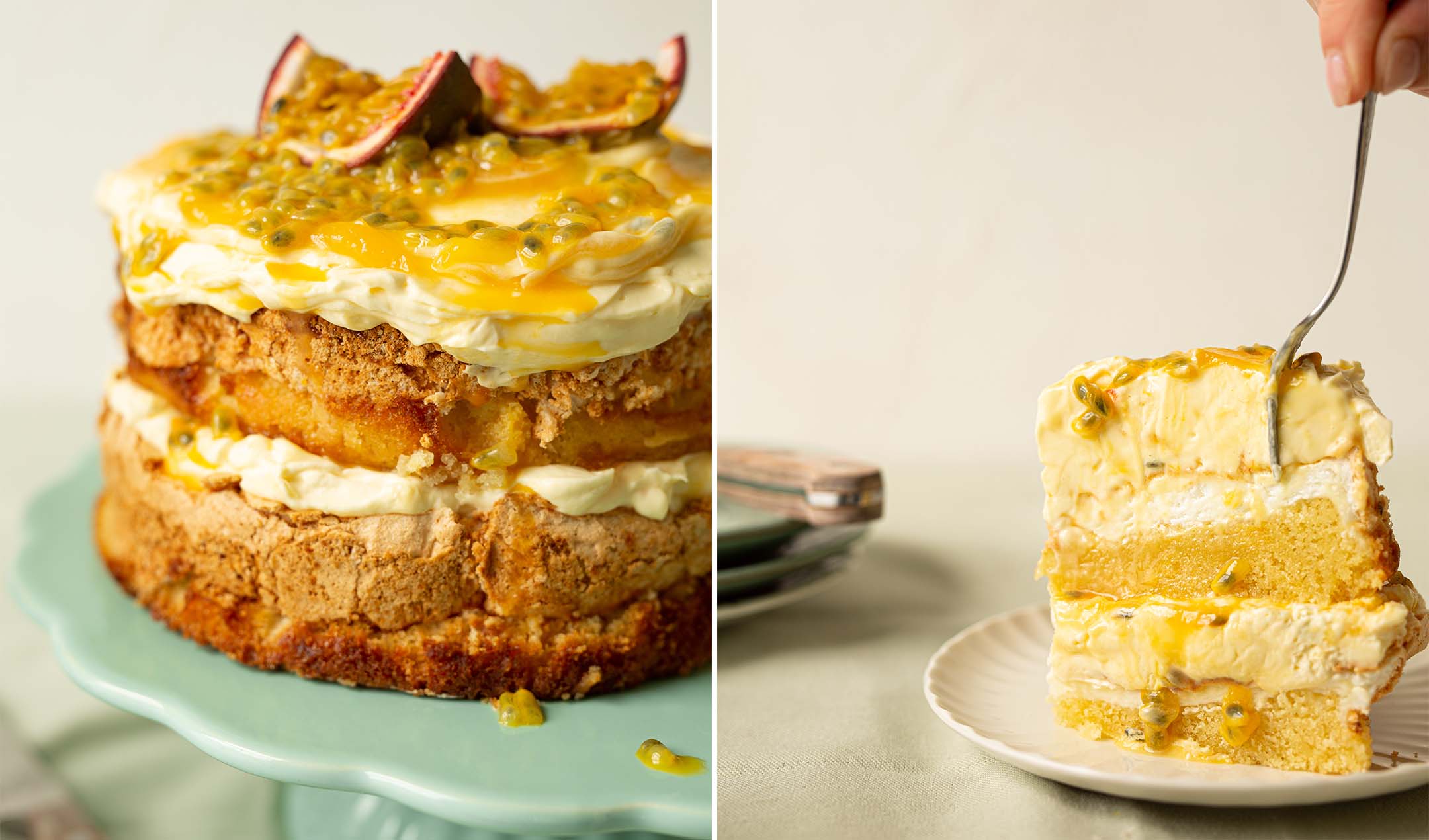 Passionfruit meringue gateaux