Tick the ingredients you need to add your shopping list.
For the coating:
For the sauce:
To garnish:
Cut each chicken thigh into two or three pieces to make bite-sized chunks and season with salt. Whisk the buttermilk and gochugaru or paprika together in a large bowl or baking dish. Submerge all the chicken in the buttermilk, cover with cling film and marinate in the fridge for a good 4–6 hours (leaving it overnight is fine too).
When it's time to cook, remove the buttermilk-brined chicken from the fridge about 30 minutes before frying. Heat the oil in your deep-fryer to 150˚C.
Combine all the coating ingredients in one bowl. (If you've run out of baking powder, use 60g self-raising flour instead of the plain flour.)
Working quickly and without shaking off too much of the buttermilk, dredge the chicken pieces in the flour mix, ensuring a generous and even coating. Working in batches, add each piece directly into the fryer and cook for about 5 minutes, until cooked through and light golden. Remove from the fryer and set aside on a wire rack set over a baking tray lined with kitchen paper while you cook the rest of the chicken.
When all the pieces have had their first fry and have been drained, crank up the temperature of the oil to 190˚C.
Meanwhile, put all the sauce ingredients in a saucepan set over  medium heat and bring to the boil, then drop down to the lowest heat setting and give it a stir every so often just to keep it warm and pourable.
Fry all the chicken for a second time for 90 seconds to 2 minutes, until it looks incredibly crisp and has darkened in colour. Depending on the size of your fryer basket, you may need to do this in two batches.
Place the chicken into a large heatproof bowl and pour over all the sauce, tossing to coat each piece. The chicken will soak up the sauce but still retain its crispness.
Plate up with a generous sprinkle of sesame seeds, sliced spring onions and fresh chilli on top. Alternatively, serve in a steamed bao or as a burger. Kimchi or some sharp pickles are the ideal supporting side act or you can go all out on the whole banchan experience of a table laden with small side dishes
Note: Fresh green chilli can be used as an alternative to fresh red chilli, if you wish.
Popular in Chicken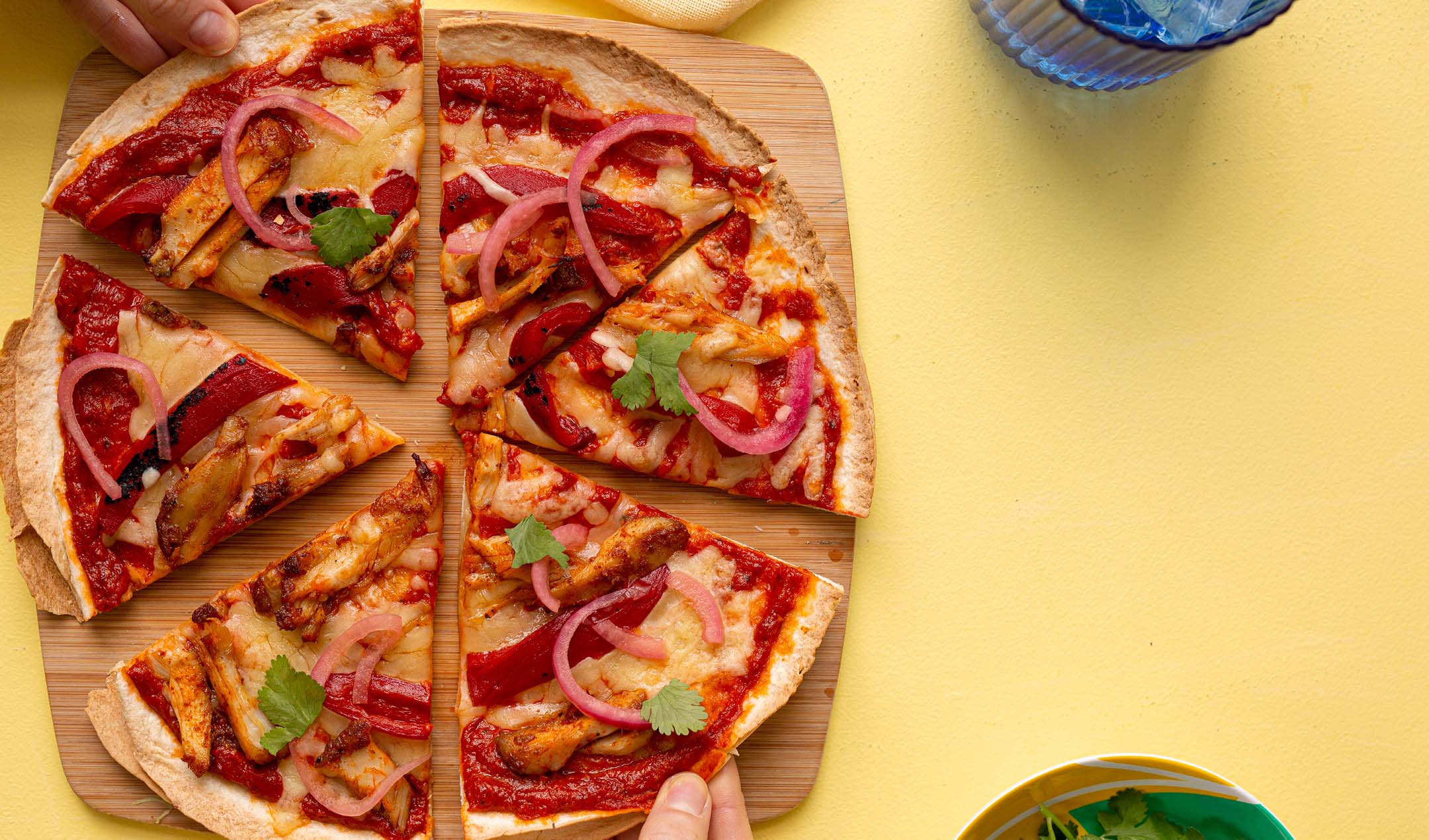 Chicken taco pizzas