Tick the ingredients you need to add your shopping list.
Gently warm the 280ml of milk and 30g of butter in a small saucepan until the butter has just melted.
In a large bowl, mix the flour, crushed cardamom seeds, salt and yeast, then make a well in the centre. Add the milk mixture and the beaten egg.
Mix until a dough forms, then tip onto a lightly floured surface and knead for 5-10 minutes until the dough is smooth and stretchy (or, beat in a free-standing mixer with a dough hook attachment).
Lightly grease a large bowl with oil. Add the dough, cover with cling film and leave to rise in a warm place for one hour or until it has doubled in size.
Mix the remaining butter, brown sugar and cinnamon until well combined; set aside.
Line the bottom of a 20cm round springform tin with parchment paper and lightly grease the sides with melted butter.
Tip the dough onto a lightly floured surface and knead a few times to knock the air out.
Roll the dough to a 40 x 30cm rectangle. Spread over the cinnamon butter and sprinkle with the sultanas.
Cut the dough into four strips along the longest side. Roll one strip into a spiral, like a rose shape. Attach the second strip to the end of the first, then roll the second strip around the first spiral. Repeat with the next two strips until you have a large spiral.
Transfer the dough to the cake tin and loosely cover with cling film. Leave to rise for another 30 minutes in a warm place.
Preheat the oven to 190 ̊C/170 ̊C fan/gas mark 5. Place a baking tray inside to heat.
Place the tin onto the hot tray and bake for 60-70 minutes, loosely covering with foil after 30 minutes.
Just before you remove the bun from the oven, mix the icing sugar, milk and vanilla until smooth.
Once the roll is baked, spread the icing over the top with the back of a spoon.
Leave to cool in the tin for 30 minutes, then transfer to a plate and slice into wedges to serve.
Nutrition Facts
Per serving: 391kcals, 16.9g fat (10g saturated), 54.8g carbs, 21.3g sugars, 5.8g protein, 2.1g fibre, 0.127g sodium
Popular in Cakes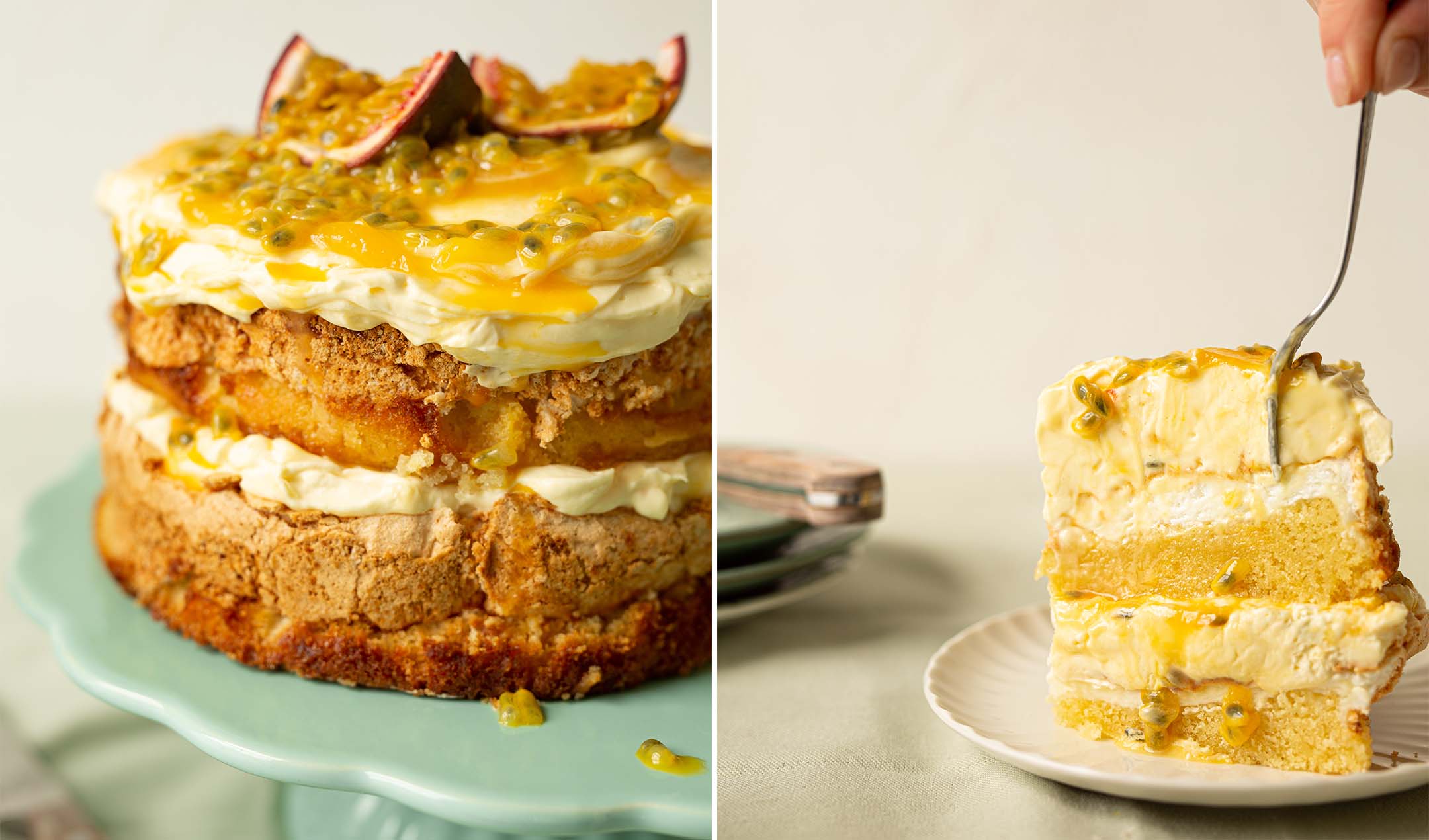 Passionfruit meringue gateaux