Tick the ingredients you need to add your shopping list.
For the biscuit dough:
For the filling:
Preheat the oven to 180˚C/160˚C fan/gas mark 4. Line 2-3 baking trays with non-stick parchment paper.
In a large bowl, beat together the butter, sugar and vanilla until light and fluffy. Add the egg and beat until well combined.

 

Add the flour and baking powder and mix until it comes together. Use your hands to gather the mixture together to form a ball. Wrap the dough in cling film and refrigerate for at least 20 minutes or until firm.
To make the filling, add all of the ingredients to a saucepan and bring to the boil over a medium heat. Reduce the heat to a simmer and cook for 5-8 minutes, until the figs have softened.

 

Transfer the mixture to a food processor and blend to a paste. Spread the mixture into a tray and allow to cool for 10 minutes.
Remove the chilled dough and place on a floured surface. Roll the dough out to a rectangle about 5mm thick, then cut in half to form two long rectangles.
Halve the fig filling and roll into two 25cm long sausages, using floured hands to stop it from sticking.

 

Place one sausage of filling in the middle of one piece of biscuit dough. Lift one side of the biscuit over the filling. Brush the edge with a little water and stick it along the edge of the filling.

 

Seal in the filling and use a sharp knife to cut along the edge. Repeat with the remaining filling and biscuit dough.
Use a sharp knife to cut each roll of biscuit into six equal pieces.
Transfer to the prepared trays and bake for 12-15 minutes or until golden brown. Allow to cool before serving.

 
Nutrition Facts
Per serving 152kcals, 4g fat (2.3g saturated), 27.4g carbs (13.4g sugars), 2.6g protein, 2.1g fibre, 0.033g sodium
Popular in Biscuits & cookies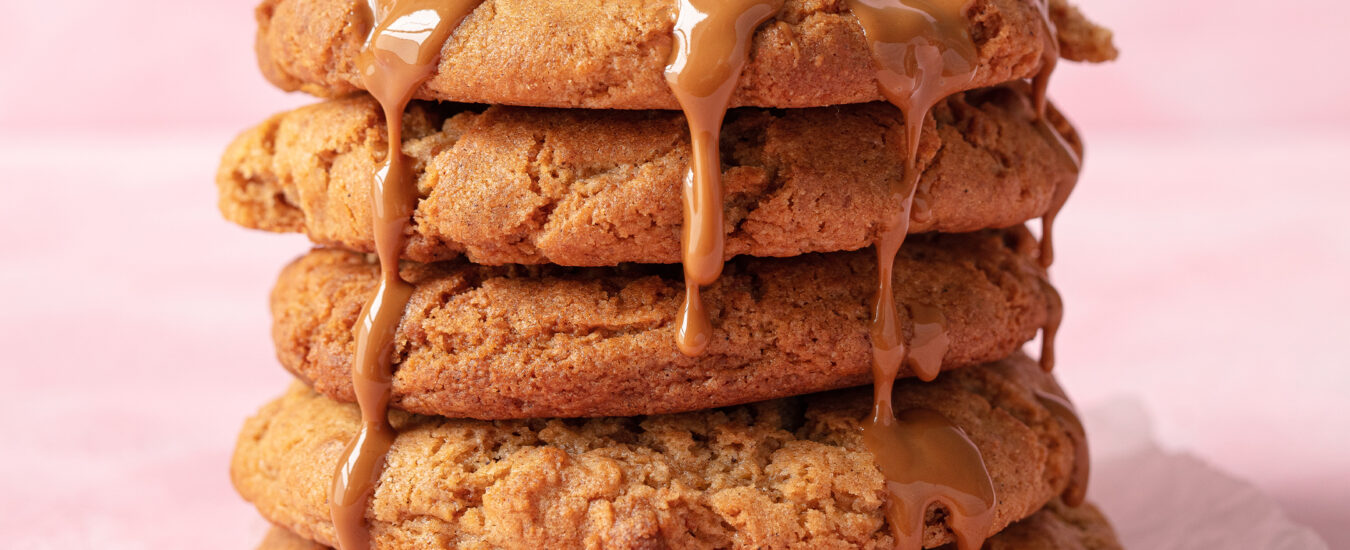 Biscoff-stuffed cookies