Tick the ingredients you need to add your shopping list.
Preheat the oven to 220˚C/200˚C fan/gas mark 7.
Place the beetroot wedges on a baking tray, drizzle with olive oil and season with salt and black pepper. Roast for 25-30 minutes until tender. Set aside and allow to cool.
Meanwhile, use the tip of a knife to slash the skin on the duck breasts in a criss-cross pattern, being careful not to cut into the meat. Place the duck breasts in a dry, cold ovenproof pan, skin-side down. Place over a high heat and cook for 6-8 minutes until the skin is golden and plenty of the fat has rendered from the duck, using a spoon to transfer the fat into a bowl.
Turn the duck breasts over and cook for 2-3 minutes longer. Transfer the pan to the oven and cook the duck for 12 minutes for medium-rare, or until cooked to your liking.
Toast the pine nuts in a dry pan over a medium heat for 3-4 minutes until golden, shaking the pan often and watching carefully to ensure they don't burn. Set aside.
In a bowl, whisk together the extra-virgin olive oil, balsamic vinegar and rosemary. Season with salt and black pepper.
When ready to serve, add the watercress and roasted beetroot to the dressing and toss to coat. Divide amongst four serving plates.
Arrange the duck slices and figs over the watercress. Drizzle over any dressing left in the bowl. Scatter over the pine nuts and pomegranate seeds, to serve
Nutrition Facts
Per serving: 402kcals, 24.2g fat (4.4g saturated), 21.5g carbs
(15.9g sugars), 28.5g protein, 3.8g fibre, 0.137g sodium
---
Top tip: Everything for this salad can be prepped ahead. Simply take the ingredients out of the fridge 30 minutes before you assemble and serve – and, as with any salad, don't dress the leaves until immediately beforehand.
Keep the reserved duck fat for making amazing roast potatoes! Simply store in a jar in
the fridge
Popular in Dairy-free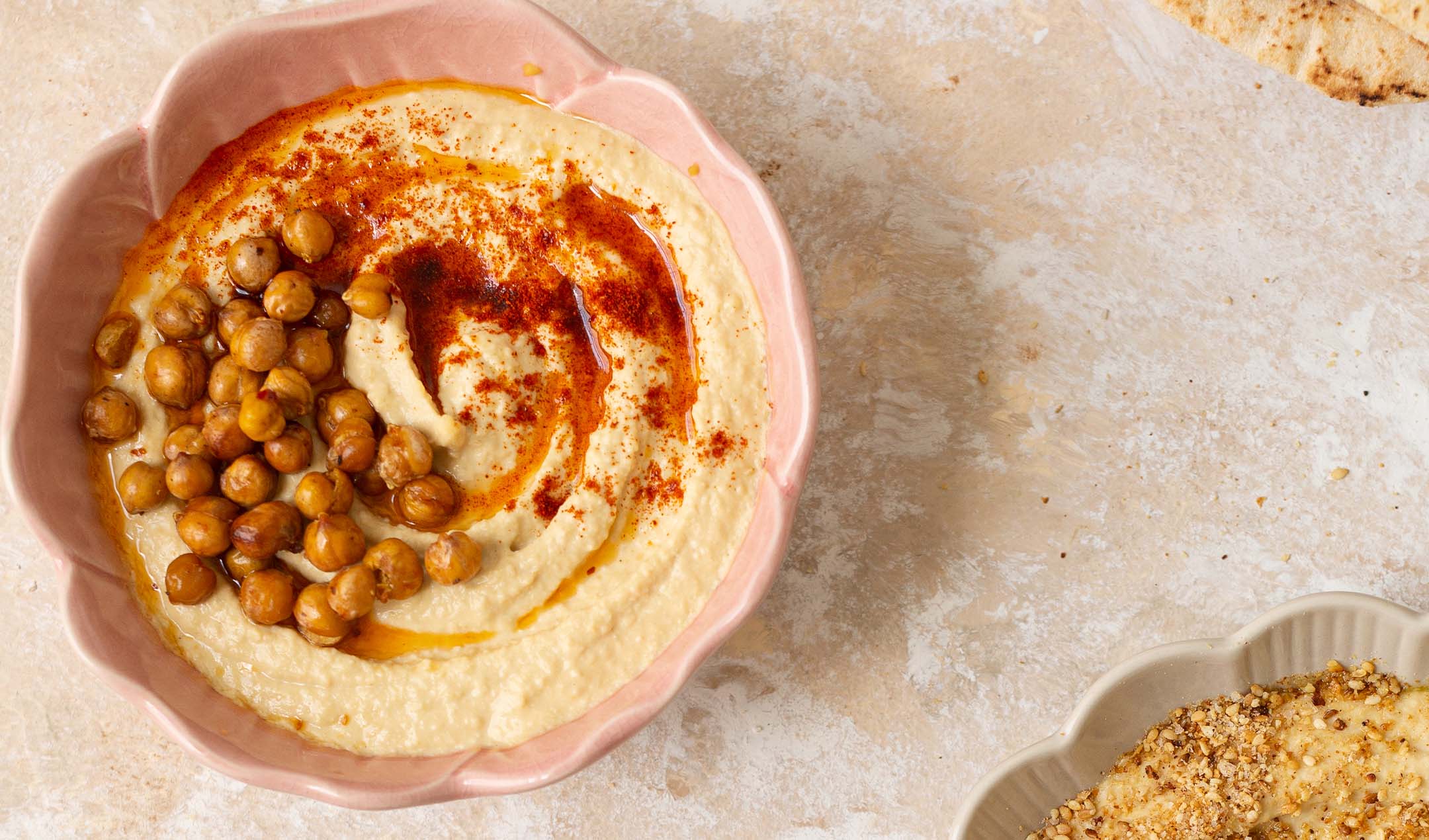 Hummus with chilli oil and crispy chickpeas