Tick the ingredients you need to add your shopping list.
For the biscuit cake:
To decorate:
Line an 8" round cake tin with a double layer of greaseproof paper.
Melt the butter, syrup, and chocolate in a pan over a low heat. Stir to make sure all the ingredients are well mixed together. Remove from the heat as soon as it has all melted together.
Add the biscuits and Maltesers to a large bowl. Pour over the melted chocolate and stir well. Leave the mix to cool for a few minutes before adding the marshmallows, if added too soon, they may melt.
Transfer to prepared tin. Level it on top and press down well to avoid air gaps. Allow to fully set.
While the biscuit cake is chilling, begin by melting the chocolate in the microwave. Place chocolate pieces in a microwave-safe dish and microwave on high for 30 second increments, stirring in between until fully melted. Place a sheet of parchment on a large baking tray.
Pour chocolate onto the parchment paper and immediately spread it out, in a thin even layer, with a large offset spatula.
Place the baking tray, with the chocolate, into the refrigerator to set, about a 1/2 hour.
Remove the chocolate sheet from the refrigerator and break it up into long shards to roughly resemble bark.
Remove from the biscuit cake from the fridge and ice all over with the chocolate icing.
Take the Chocolate Bark from the refrigerator, still on its parchment paper and set it on your work surface.
Begin placing the Chocolate Bark pieces on all sides of the iced cake. Try to overlap them, and align them in one direction, so they look more natural. Cover the cake around the edge completely.
Cover the top of the cake with Reindeer sprinkles and then decorate the top with the chocolate Christmas trees.
Popular in Cakes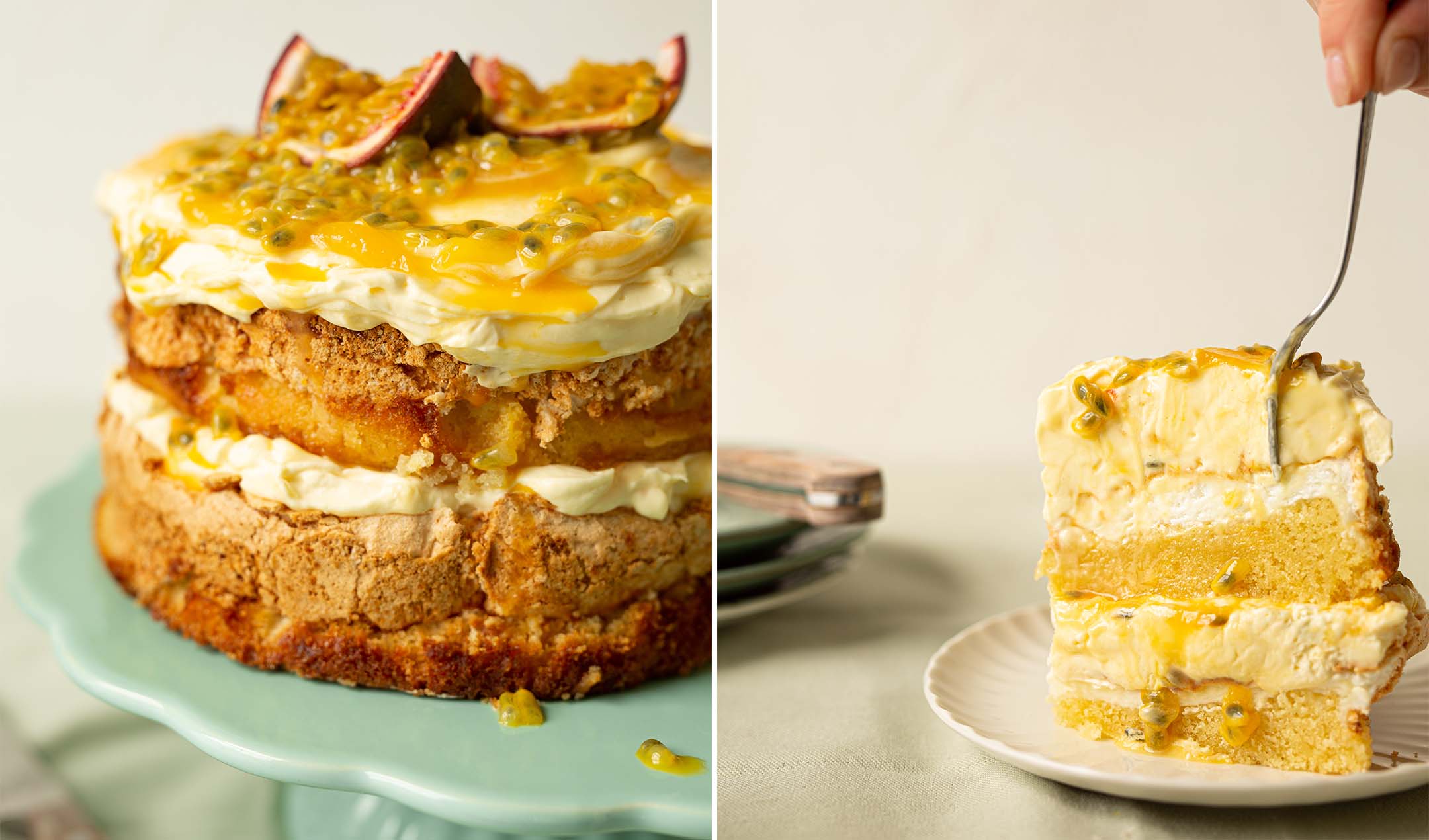 Passionfruit meringue gateaux