Tick the ingredients you need to add your shopping list.
For the sponge:
For the buttercream:
To decorate:
Preheat the oven to 180˚C/160˚C fan/gas mark 4. Grease three 15cm cake tins and line with parchment paper.

Beat the butter and sugar in a large mixing bowl until light and fluffy. Gradually stream in the beaten eggs, mixing well between each addition. Stir in the vanilla extract.
Gently fold in the flour, cocoa powder and baking powder until just combined. Stir in the milk.
Divide the sponge mixture evenly amongst the tins and bake for 20-25 minutes or until a skewer inserted into the centre comes out clean. Allow the sponges to cool in the tins for five minutes, then transfer them to a wire rack to cool completely.
To make the buttercream, beat together the icing sugar, cocoa powder and butter in a large mixing bowl until smooth. Add the chocolate hazelnut spread and beat for another minute. Beat in the milk if the mixture is too thick.
Use a large serrated knife to slice each of the sponges in half horizontally through the centre. Place the first sponge layer on a cake stand or serving plate.
Spread over some of the buttercream and add the next sponge on top. Continue to stack and fill each of the sponges.
Use a palette knife or offset spatula to spread the buttercream over the top and sides of the cake, making sure to fill in any gaps. Chill the cake for 30 minutes to set.
Once set, spread over more buttercream to cover any crumbs and smooth the icing; reserve some of the buttercream to pipe swirls on the top. Refrigerate the cake until set before adding the drip.
To decorate, microwave the chocolate hazelnut spread for 20-30 seconds, stirring so it is runny but not too loose.
Pour the melted chocolate hazelnut spread in the centre of the cake. Use an offset spatula to spread it out towards the edge of the cake, allowing it to drip down the sides. You can add more drips by piping extra around the edges.
Add the remaining buttercream to a piping bag with a star nozzle. Pipe five swirls around the top edge of the cake, then place one Ferrero Rocher on top of each swirl.
Press the chopped hazelnuts around the bottom edge of the cake and sprinkle over the centre of the cake.
Nutrition Facts
Per Serving:
513kcals, 30.3g fat (20.1g saturated), 60.1g carbs (45.6g sugars), 5.4g protein, 3.1g fiber, 0.191g sodium.
---
TOP TIIP:
Step 8 is called crumb coating: the first layer of buttercream will collect crumbs from the cake, so refrigerating the cake at this stage helps the icing set, preventing more crumbs from spreading when you add the final layer of buttercream.
Popular in Cakes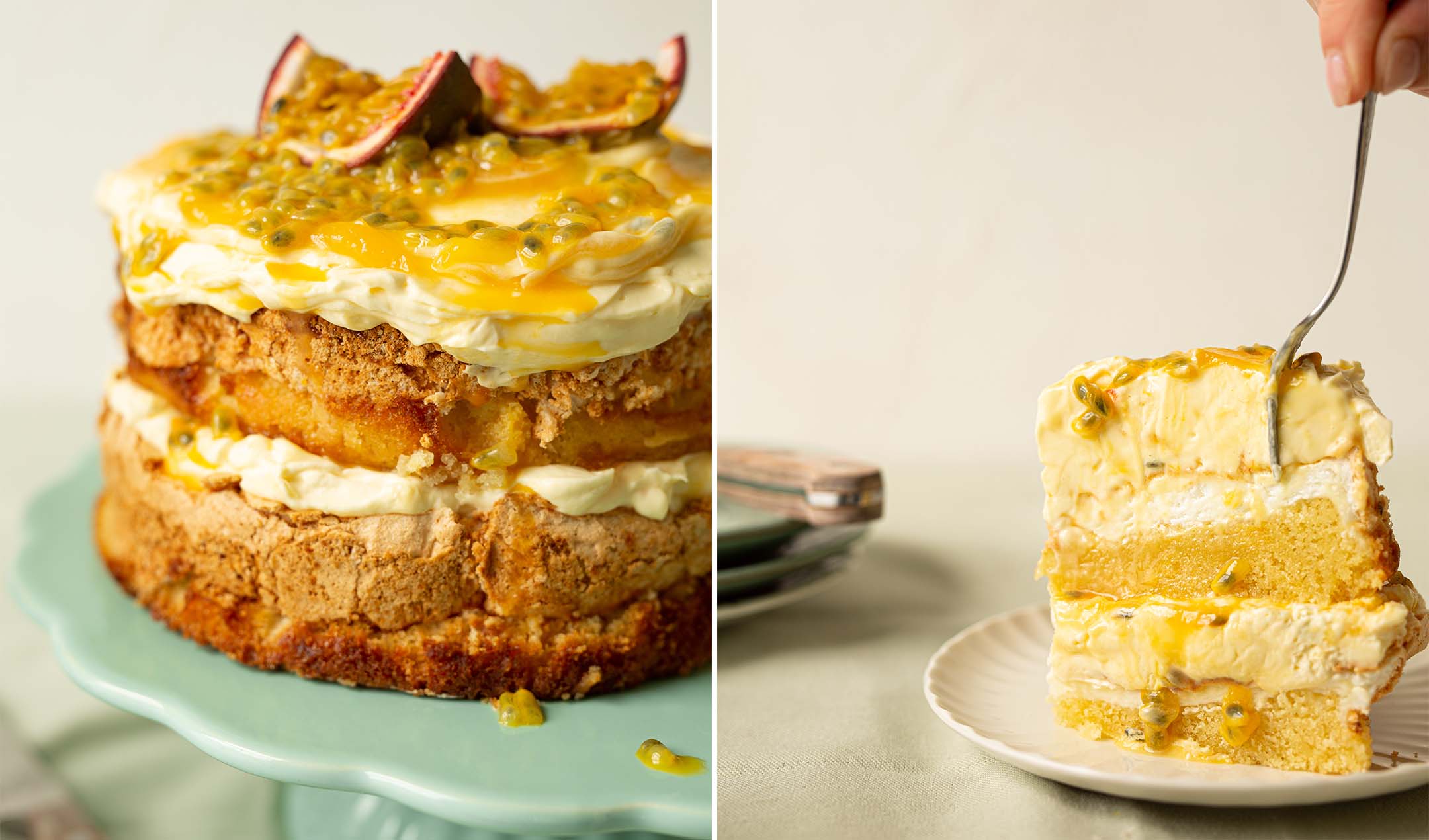 Passionfruit meringue gateaux