Tick the ingredients you need to add your shopping list.
For the pastry:
For the caramel:
For the ganache:
To decorate:
Preheat the oven to 180 ̊C/160 ̊C fan/gas mark 4. Grease a 28cm round tart tin and line the base with parchment paper
In a large bowl, sieve together the flour, icing sugar and cocoa powder. Use your fingers to rub in the butter until the mixture resembles breadcrumbs.
Mix in the egg yolks and just enough cold water to form a soft dough. Turn the pastry onto a floured surface and lightly knead until the dough comes together. Wrap in cling film and refrigerate for at least one hour.
On a floured surface, roll out the pastry to about 4mm thick. Lift the pastry into the prepared tin, pushing it into the sides. Trim away any excess.
Line the pastry with parchment paper and fill with baking beans. Bake for about 15-20 minutes or until the sides of the pastry are a pale golden colour. Remove the parchment and baking beans and bake for five minutes longer. Remove from the oven and allow to cool completely.
Using a pastry brush, brush the inside of the pastry case with the melted chocolate and allow to set in the fridge.
For the caramel, combine the sugar and golden syrup in a heavy-bottomed saucepan and add 120ml water. Simmer over a medium heat for 10-15 minutes, or until the mixture is a deep brown caramel colour. Do not stir, as this will result in sugar crystals forming.
Take off the heat and add the butter, cream and a good pinch of salt. It will splutter and stiffen, so be careful! Place back over a low heat and stir gently until smooth.
Set a little of the caramel aside for decorating. Pour the remaining caramel into the pastry case and set aside until completely cool. Place in the fridge for at least two hours or overnight.
To make the ganache, place the chocolate, cream and butter in a heatproof bowl set over a saucepan of simmering water, making sure the bottom of the bowl does not touch the water. Stir the ganache with a heatproof spatula for about five minutes until smooth. Allow to cool until thickened enough to hold an indentation from a spoon — if it's too warm, it won't hold its swirls.
Remove the chilled tart from the fridge and spread the ganache over the caramel. Decorate with a drizzle of the reserved caramel and a sprinkle of sea salt.
Nutrition Facts
Per serving: 546kcals, 24.5g fat (9.4g saturated), 79.7g carbs (56.9g sugars), 5.5g protein, 3.8g fibre, 0.253g sodium
Popular in Chocolate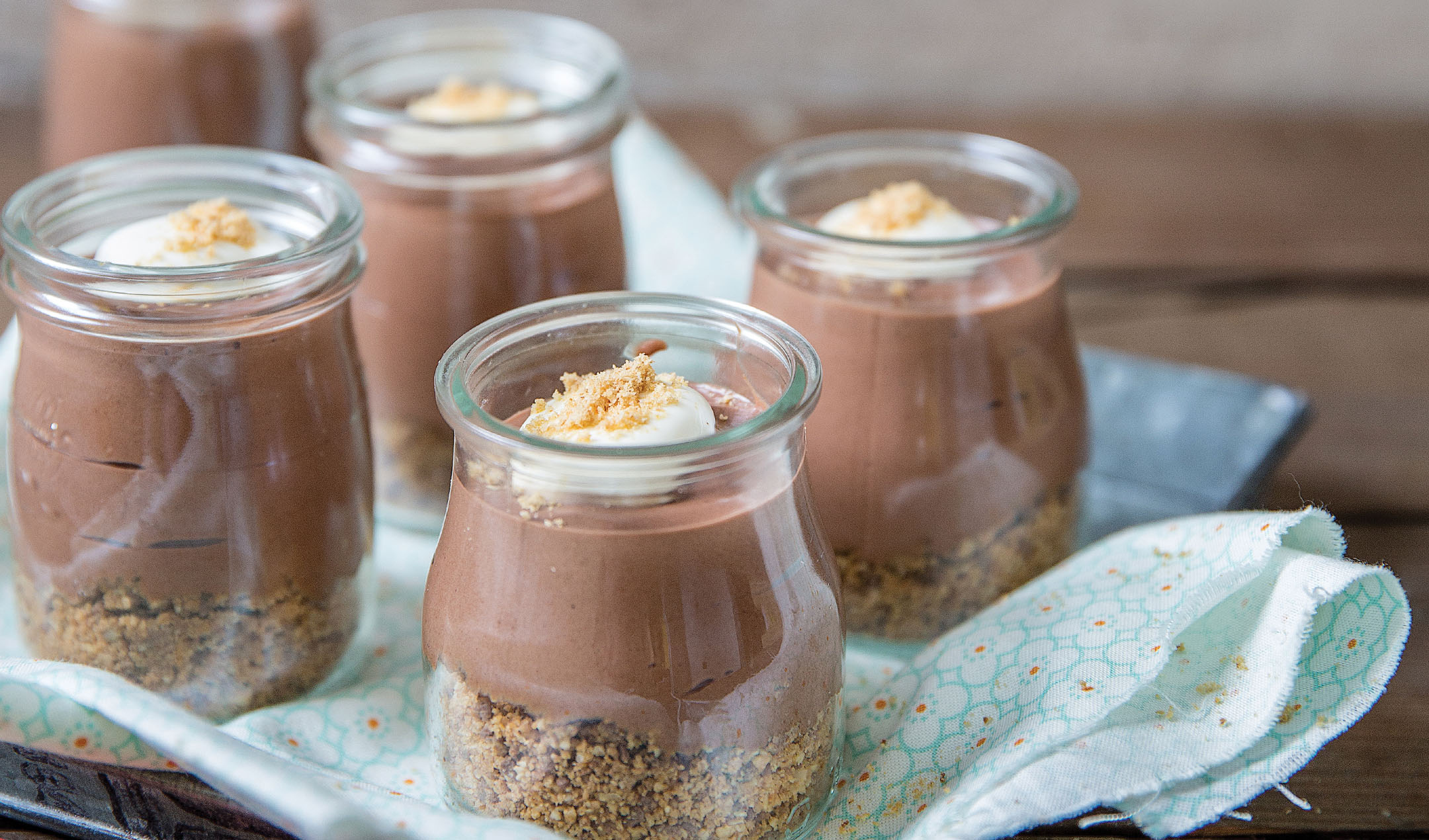 Chocolate hazelnut mousse pots