Tick the ingredients you need to add your shopping list.
For the chips:
For the schnitzel:
To serve:
Bring a pan of salted water to the boil and add the chips. Cook for 4-5 minutes until just barely tender, then drain. Return to the pan and place over the heat to steam dry for one minute, shaking the pan every ten seconds or so.
Transfer the chips to a large baking tray (use two trays if necessary to keep them in a single layer.) Drizzle with the oil and season with salt, then toss to coat. Place in the top part of the oven and bake for 35-40 minutes until crispy, turning after 25 minutes.
Place a layer of cling film on the work surface and place the chicken fillets on top. Cover with another piece of cling film and use a rolling pin to bash the chicken until it is 2-3mm thick.
Put the flour in a shallow bowl and season, then beat the eggs together in a second bowl. Combine the breadcrumbs and Parmesan in a third bowl.
Working one piece at a time, dip the chicken in the flour to coat, then into the beaten egg, then into the breadcrumbs mixture, pressing the crumbs on to the chicken.
Heat the oil in a large pan over a medium-high heat. Working two at a time, cook the chicken schnitzels time for 2-3 minutes on each side until golden. Transfer to a plate lined with kitchen paper to drain.
Serve with the homemade chips and some coleslaw.
Nutrition Facts
Per serving: 797kcals, 31.6g fat (8.5g saturated), 71.3g carbs, 4.2g sugars, 55.4g protein, 7g fibre, 0.498g sodium
---
MAKE IT YOURS: Simply omit the Parmesan for a dairy-free meal, or use gluten-free flour and breadcrumbs to make it coeliac-friendly.
Popular in Chicken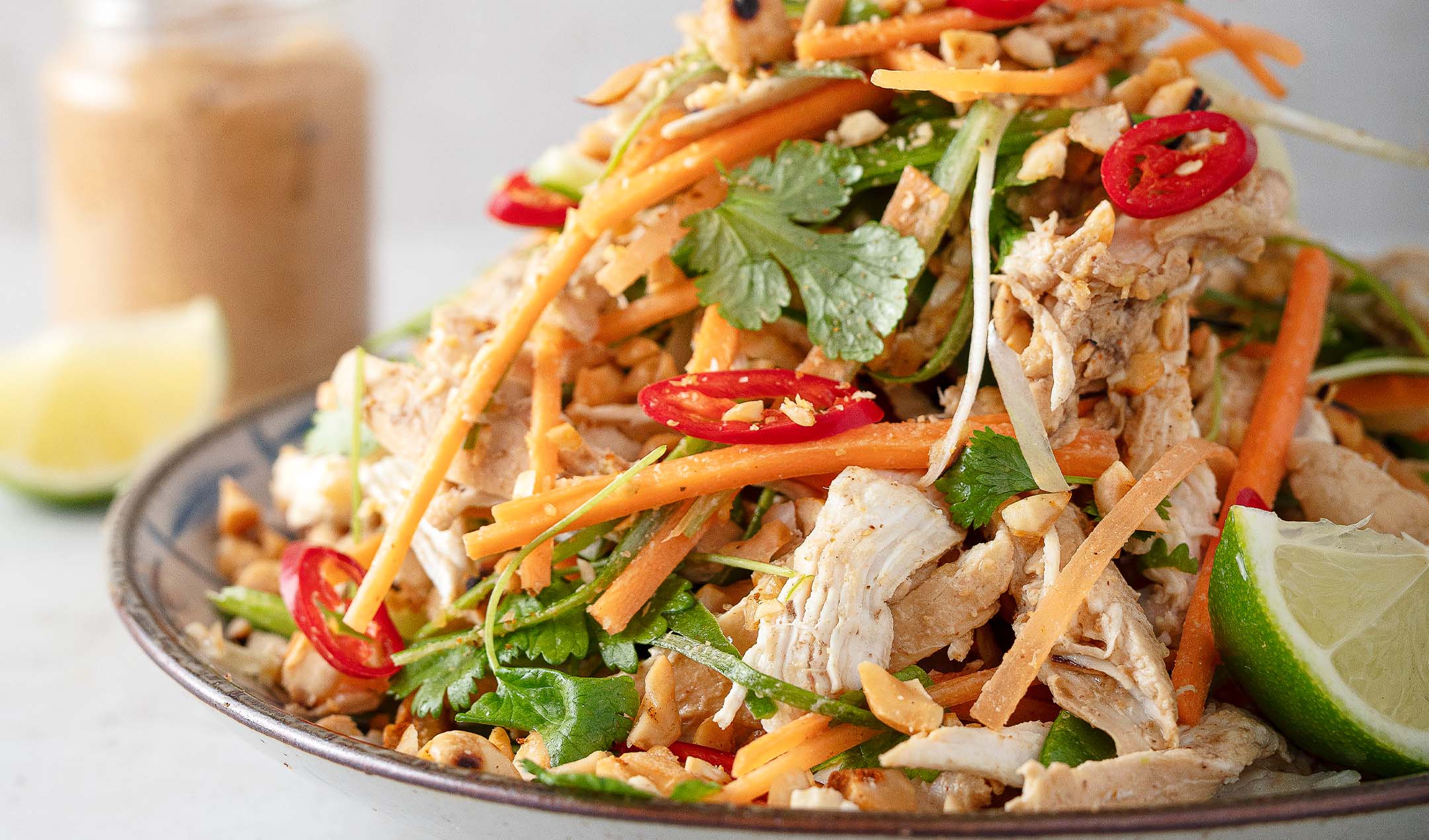 Peanut chicken salad