Tick the ingredients you need to add your shopping list.
For the Béchamel:
To serve:
Heat the oil in a pan over a medium-high heat and cook the chicken for 4-5 minutes until browned on all sides. Transfer to a plate using a slotted spoon and set aside.
Add the shallot and celery to the pan and cook for 3-4 minutes, until softened. Add the garlic and cook for one minute longer.
Return the chicken to the pot. Add the pepper, tomatoes, white wine and 100ml of water.
Bring to the boil, then reduce the heat to a simmer and cook for 10 minutes. Remove from the heat, stir in the basil and set aside.
For the Béchamel sauce, melt the butter in a saucepan over a medium heat. Add the flour and stir until combined. Cook for one minute while continuing to stir. Remove from the heat and gradually add the milk, whisking constantly.
Place the saucepan back on the heat and bring to a gentle boil.
Reduce the heat and continue to whisk for five minutes until smooth and thickened.
Remove from the heat and whisk in the ricotta until the sauce is smooth. Season with salt and black pepper.
Preheat the oven to 200°C/180°C fan/gas mark 6.
Grease a 30x20cm ovenproof dish. Place three lasagne sheets in the bottom of the dish; you may need to trim them slightly to fit.
Add alternating layers of the chicken mixture, Béchamel and pasta sheets. Finish the dish with the ricotta sauce. Top with the Parmesan and mozzarella.
Bake for 35-40 minutes until crisp and golden on top and bubbling around the edges. Allow to sit for five minutes before serving with some mixed leaves.
Nutrition Facts
Per serving: 383kcals, 16.6g fat (7.3g saturated), 34.6g carbs (6.9g sugars), 23g protein, 1.3g fibre, 0.209g sodium
Popular in Chicken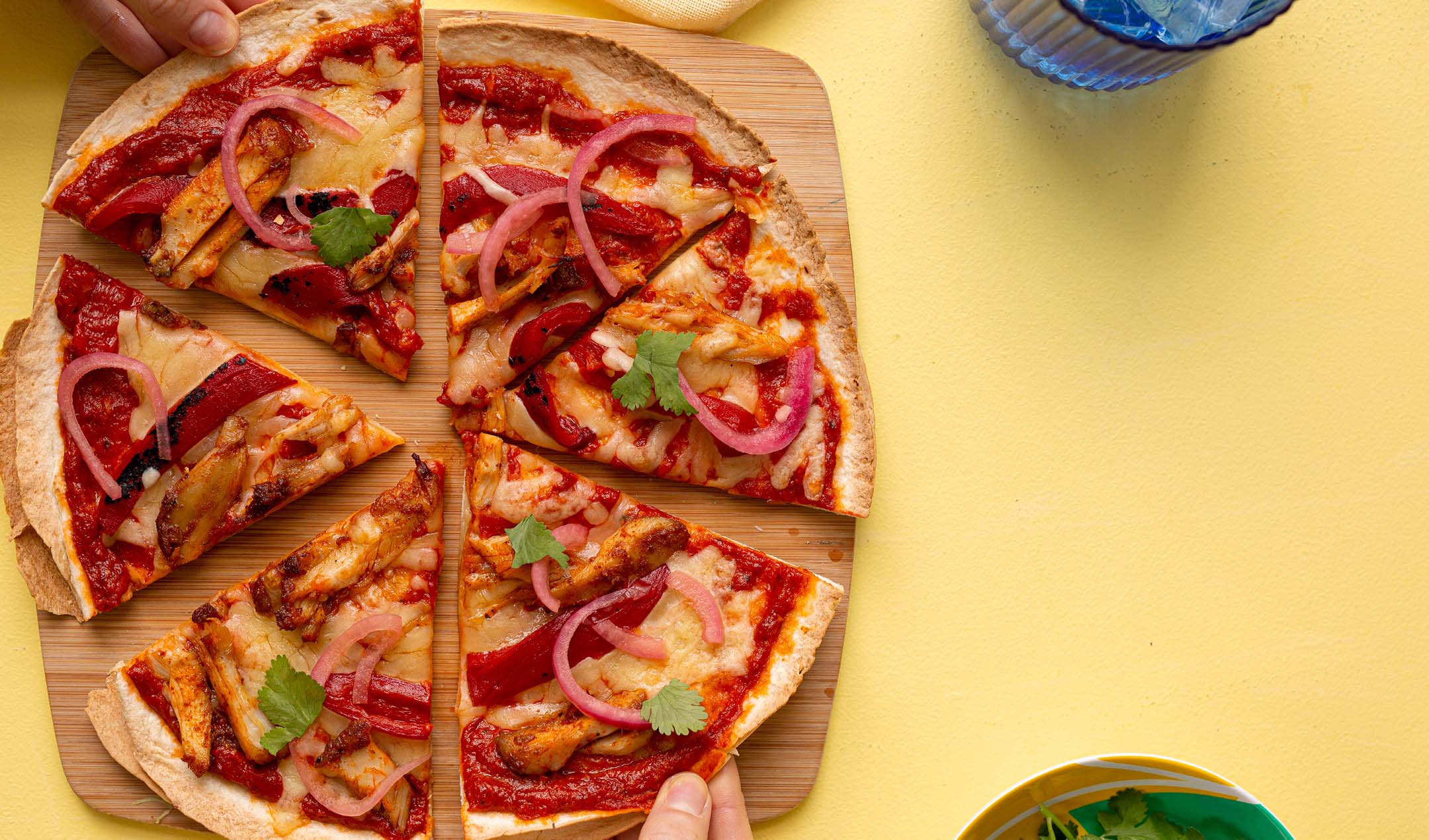 Chicken taco pizzas