Tick the ingredients you need to add your shopping list.
For the spiced whipped cream:
Preheat the oven to 150°C/130°C fan/gas mark 2. Place the Chilli Chai Chocolate in a heatproof bowl.
In a small, heavy saucepan, combine the cream, milk, espresso powder and a pinch of salt. Bring just to the boil, stirring until the espresso powder has dissolved, then immediately pour over the chocolate, whisking until melted and smooth.
In a second bowl, whisk together the egg yolks, sugar and a pinch of salt. Add the warm chocolate cream in a slow stream, whisking constantly.
Pour the mixture through a fine-mesh sieve into a measuring and allow to cool for 20 minutes, stirring occasionally.
Line the bottom of a large baking tin with a folded tea towel and arrange eight ramekins on top.
Divide the cooled chocolate mixture evenly between the ramekins. Pour hot water into the baking tin so that it comes halfway up the sides of the ramekins. Cover the tin with foil, poking a hole in each end of the foil to let steam escape.
Bake for 30-35 minutes until the pots de crème are set around the edges but still slightly wobbly in the middle.
Transfer to a rack to cool completely for around one hour, uncovered. Cover with cling film and place in the fridge for at least four hours before serving.
In a mixing bowl, combine the cream, sugar, cayenne and cinnamon and whip vigorously until thick. Place in the fridge for one hour.
To serve, pipe or dollop a little spiced whipped cream onto the centre of each pot de crème.
Nutrition Facts
Per serving: 429kcals, 37.3g fat (22g saturated), 23.5g carbs (12.2g sugars), 6g protein, 2.4g fibre, 0.074g sodium
Popular in Chocolate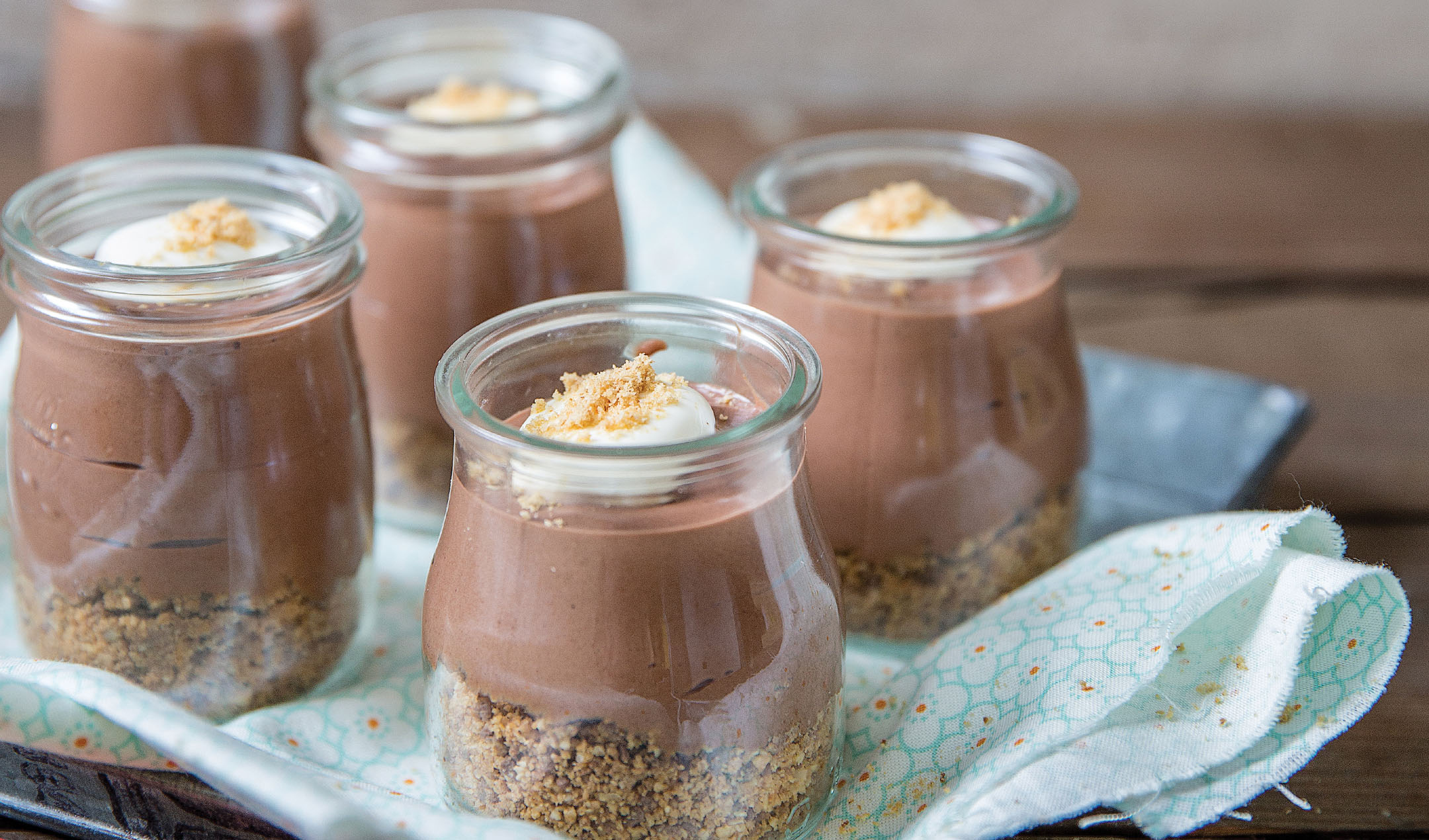 Chocolate hazelnut mousse pots