Tick the ingredients you need to add your shopping list.
For the pastry:
For the brownie:
For the meringue:
To decorate:
Preheat the oven to 180 ̊C/160 ̊C fan/gas mark 4 and grease a pie dish with butter.
To make the pastry, sieve the flour and icing sugar into a large bowl. Rub in the butter until the mixture resembles breadcrumbs.
Add the cold water one tablespoon at a time, mixing after each addition. Mix together until it comes together as a dough. Wrap in cling film and chill in the fridge for 30 minutes.
On a floured surface, roll the dough out to about 1cm thick. Carefully lift the pastry into the greased pie dish and push into the edges. Trim the excess pastry around the edges.
Use the back of a knife to crimp the edges. Place a piece of non-stick parchment paper into the pie crust, then pour in some baking beans or dried rice. Bake for 10 minutes. Remove the baking beans and parchment and return to the oven for five minutes longer. Set aside.
For the brownie, melt together the dark chocolate and butter in a heatproof bowl set over a pan of simmering water, ensuring that the bottom of the bowl doesn't touch the water. Once melted, set aside and allow to cool slightly.
Beat in the eggs and sugar. Fold in the flour, cocoa powder and chocolate chips.
Pour the brownie mixture into the pastry case. Bake for 35-40 minutes or until the brownie is a tiny bit gooey when a skewer is inserted into the centre. Allow to cool fully.
For the meringue, stir the sugar and water in a small saucepan over a medium heat. Attach a sugar thermometer to the side of the pot.
Slowly start to whisk the egg using an electric beater with a whisk attachment. Whisk until the egg whites form soft peaks.
Allow the sugar to reach 121 ̊C, then slowly stream the hot sugar into the egg white. Turn the mixer to full speed and whisk until the egg whites have cooled to room temperature.
Spoon the meringue onto the cooled brownie pie, using the back of the spoon to create peaks in the meringue. Place under a grill until the meringue is golden brown. Drizzle over some melted chocolate and serve.
Nutrition Facts
Per Serving: 721kcals, 36.5g fat (21.6g saturated), 93.5g carbs (64.3g sugars), 8.3g protein, 4.1g fibre, 0.178g sodium
Popular in Christmas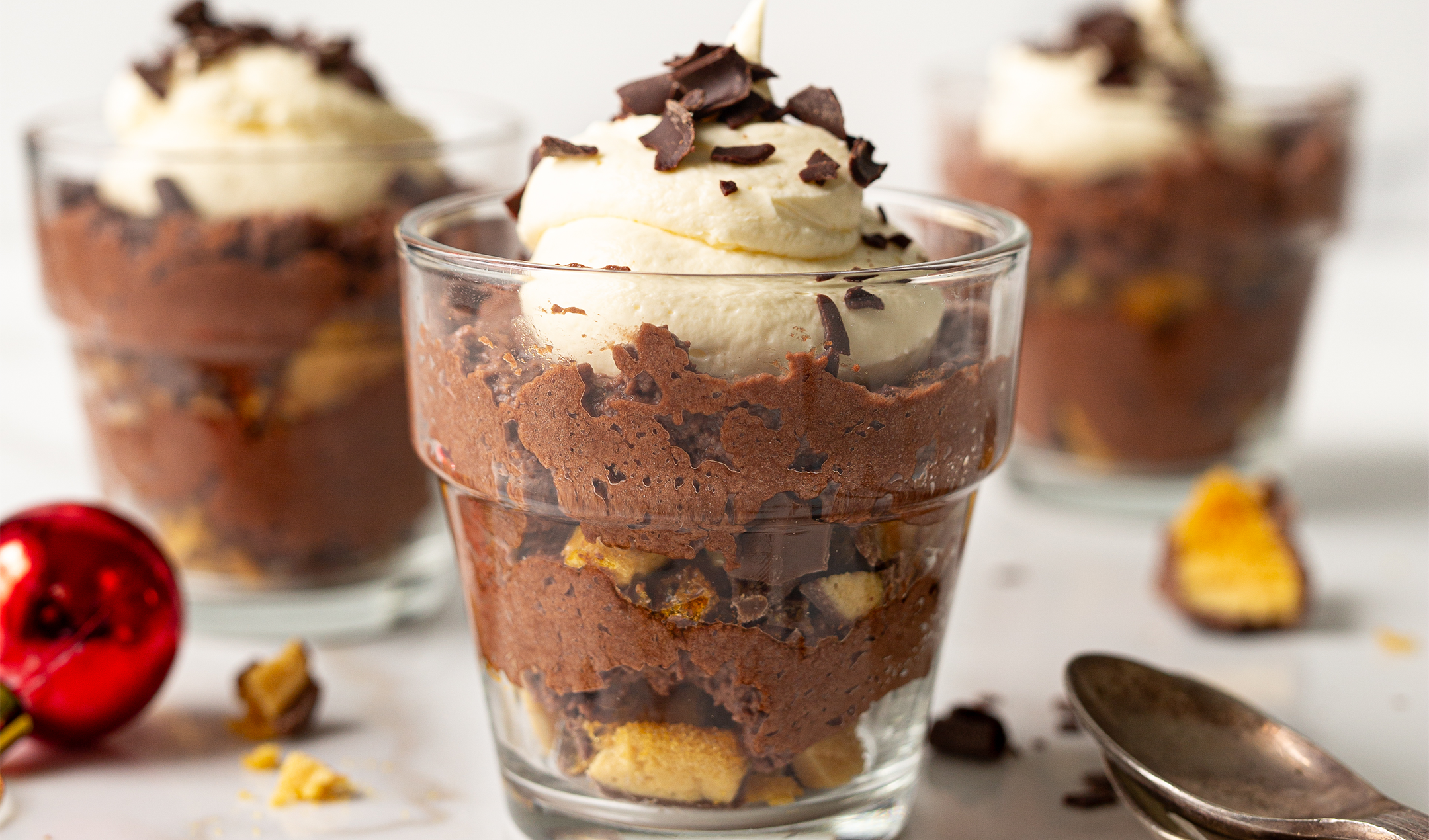 Gluten-free chocolate and honeycomb mousse by EUROSPAR