Tick the ingredients you need to add your shopping list.
For the custard:
For the apricots & caramel sauce:
To serve:
Preheat the oven to 140°C/120°C fan/gas mark 1. Line a large baking tray with greaseproof paper.
For the meringues, add the egg whites and lemon juice to a large clean bowl and whisk until stiff peaks are formed. Add one tablespoon of sugar and whisk again until the whites return to stiff. Repeat until all the sugar has been used and the meringue is thick and glossy.
Spoon four large blobs of the meringue onto the lined baking tray. Make a small dip on top of each meringue, to hold the toppings later. Bake for 75 minutes or until pale golden and crisp. Leave to cool fully in the oven with the door ajar.
To prepare the amaretto custard, heat the custard in a small saucepan over a low heat. Once warmed through, but not boiling, add the amaretto. Stir gently for a few moments until combined. Remove from the heat and allow to cool fully.
To make the apricot and caramel sauce, drain the apricots and reserve three tablespoons of syrup. Heat a small frying pan over a medium- high heat. When hot, add the caster sugar in a single layer, then shake the pan until the sugar has dissolved. Bubble until it is a deep amber caramel, then remove from the heat and add two tablespoons of the reserved apricot syrup, the lime juice and vanilla bean paste (be careful, as it may spit). Return the pan to the heat and warm through gently. Add the apricot halves and lime zest, then stir to coat and warm through. Leave to cool before serving.
Serve the meringues topped with spoons of whipped cream, thick amaretto custard, the apricots and caramel sauce.
Nutrition Facts
Per serving: 668kcals, 32g fat (16.3g saturated), 84.3g carbs (78.6g sugars), 9.8g protein, 1.8g fibre, 0.694g sodium
Popular in Gluten-free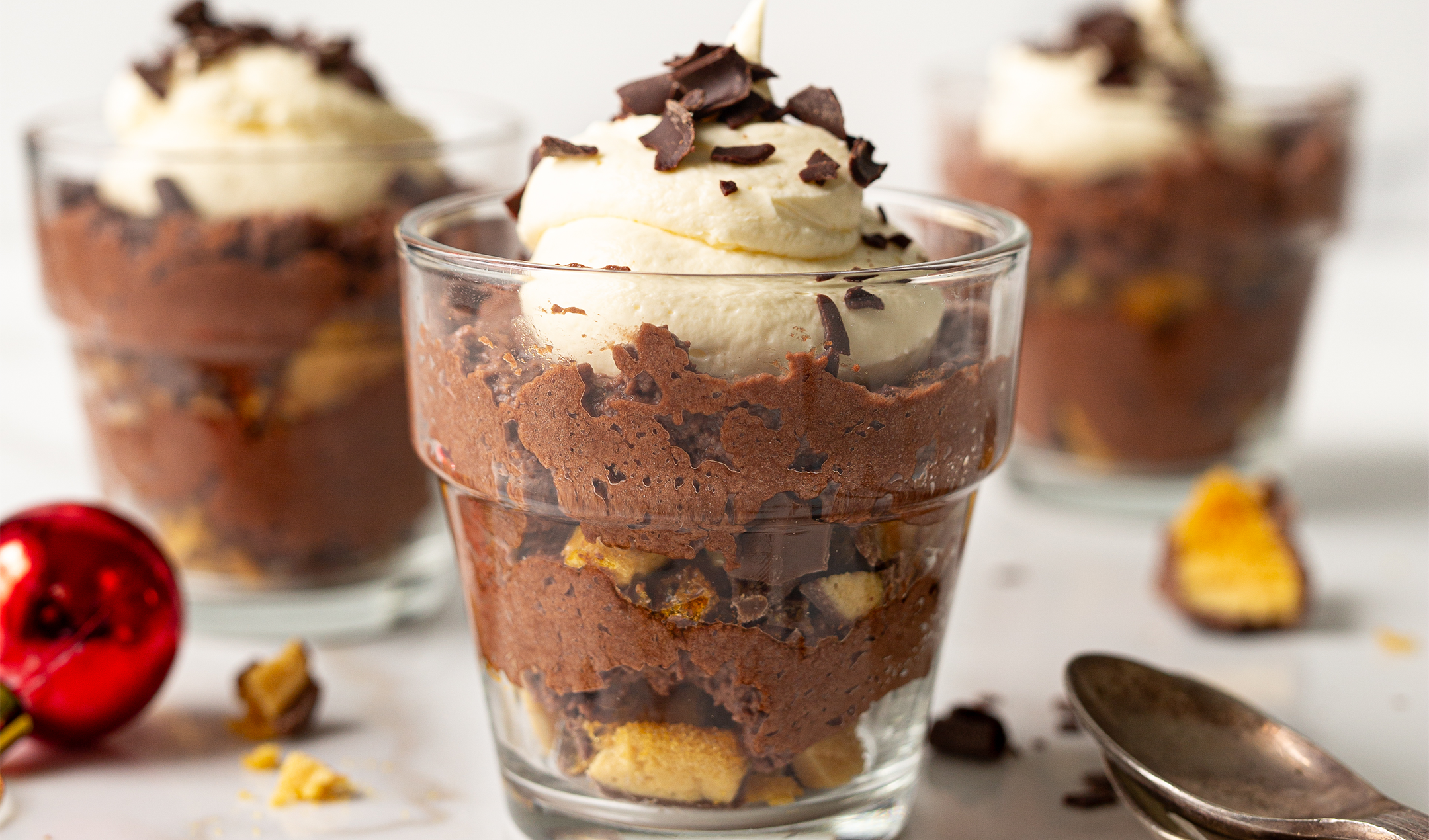 Gluten-free chocolate and honeycomb mousse by EUROSPAR