Dairy-free curried cauliflower soup
Serves 6
Heat 2 tbsp olive oil in a large pot over a medium heat. Cook 2 sliced onions with a pinch of salt for 7-8 minutes until soft and translucent. Add 4 crushed garlic cloves and cook for 30 seconds. Add 1 chopped large head of cauliflower, 1.2l chicken or vegetable stock, ½ tsp dried coriander, 1 tsp turmeric, 1 tsp cumin and some seasoning. Bring to a boil, then reduce the heat and simmer for 15 minutes until the cauliflower is tender. Use a stick blender to purée the soup until smooth. Stir in 250ml coconut milk and warm through. Taste and add more salt, pepper or spices to taste. Ladle the soup into bowls and garnish with a handful of toasted cashews, fresh parsley and a drizzle of olive oil to top.
Quick lamb chops with spiced yoghurt
Serves 4
In a bowl, combine 400g Greek yoghurt, the juice of ½ a lemon and 2 crushed garlic cloves. Season with salt and pepper. Transfer about one-third of the mixture to a separate bowl and set aside for serving. Stir 2 tsp ground cumin, 1 tsp dried coriander and 1 tsp turmeric into the remaining yoghurt mixture. Season 8 lamb chops with salt and pepper, then evenly coat all sides with the spiced yoghurt. Rest at room temperature for 30 minutes, or in the fridge for up to 12 hours. Heat 1 tbsp oil in a large pan over a medium-high heat. Remove the chops from the marinade, letting any excess drip off. Working in two batches, cook for 3-4 minutes per side. Remove to a plate, tent loosely with foil and rest for five minutes. Serve the with the reserved yoghurt.
Spiced carrot salad
Serves 2
In a small dry pan over a medium heat, toast 1 tsp cumin seeds for about one minute, adding 1 tsp ground turmeric for the last 15-20 seconds. Transfer the toasted spices to a bowl and add 2 shredded carrots, 3 tbsp chopped coriander, 2 tbsp olive oil and the juice of ½ a lemon. Toss and season with salt and black pepper.
Golden milk
Serves 2
Bring 120ml water to a low simmer in a saucepan. Stir in 4 tbsp ground turmeric, stirring constantly for 6-8 minutes until it makes a thick paste, adding more water as needed. Store this paste in the fridge for up to two weeks. To make golden milk, mix ½ tsp of the turmeric paste with 250ml milk in a saucepan and heat over medium-low heat for 5-6 minutes. Stir in ¼ tsp coconut oil or ghee, then pour into a cup and add milk and/or honey to taste.
Quick fish curry
Serves 4
Heat 2 tbsp coconut oil in a large saucepan over a medium heat. Add 1 finely chopped shallot, 5 crushed garlic cloves and 1 grated 4cm piece of fresh ginger. Cook for 3-4 minutes until golden. Add 2 tbsp red curry paste and 2 tsp ground turmeric and cook for three minutes. Add 1 x 400g tin of tomatoes and cook for five minutes, stirring often. Stir in 1 x 400ml tin of coconut milk and season. Simmer for 8-10 minutes, stirring occasionally, until thickened. Add 300g chopped cauliflower and 2 chopped carrots and pour in enough water to cover. Bring to a simmer and cook for 8-10 minutes. Season 450g chopped white fish and stir gently into the curry. Return to a simmer and cook for five minutes until the fish is cooked through. Top with fresh coriander and a squeeze of lime juice and serve with rice or noodles.
Popular in Soup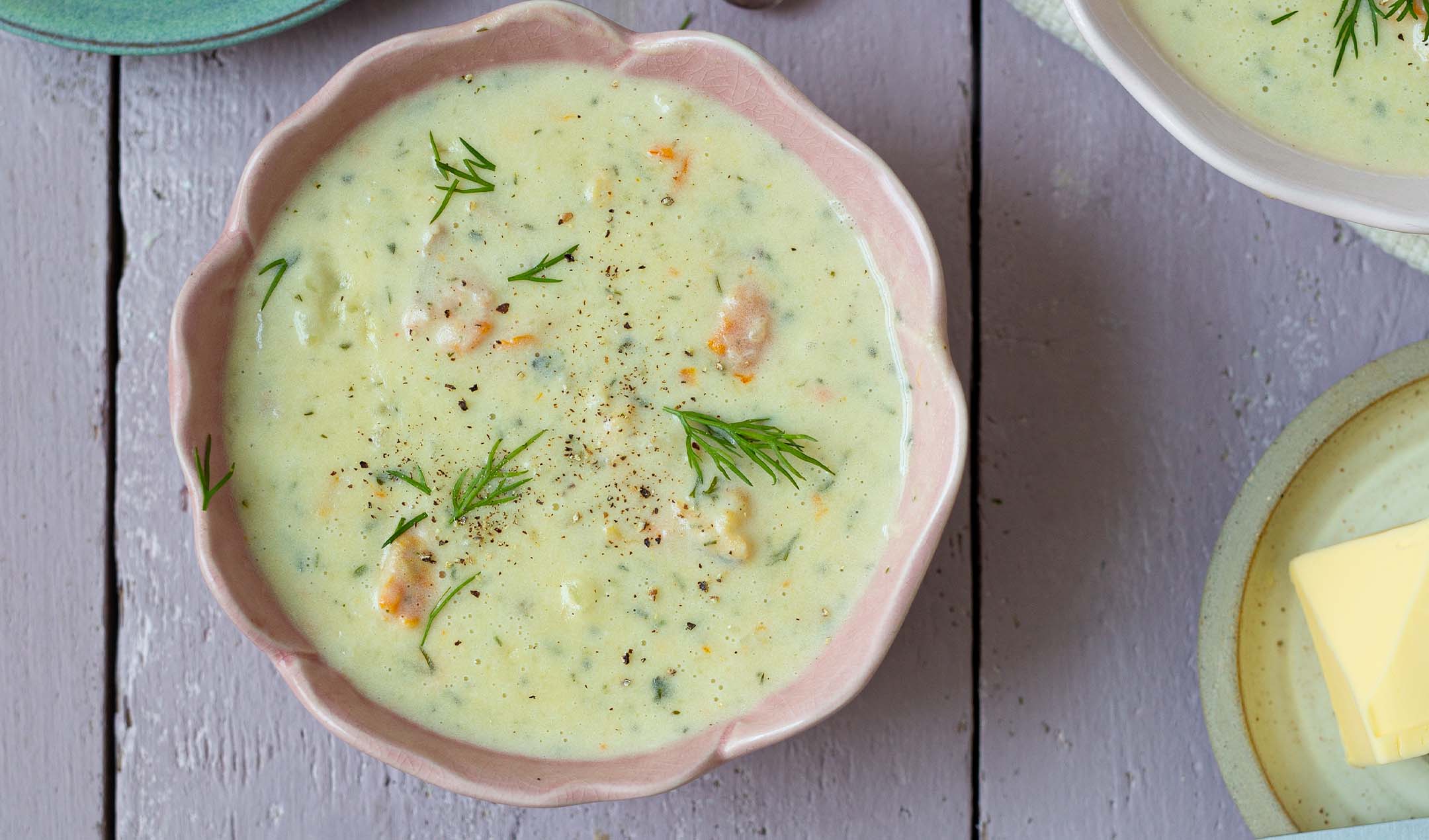 Super creamy chowder