Salmon and couscous parcels

Serves 2

Preheat the oven to
180°C/160°C fan/gas mark 4
. Put
100g dried couscous
in a bowl with
1 tbsp extra-virgin olive oil
and
1 bashed garlic clove.
Add
200ml boiling vegetable stock
, cover and allow to fsit for 10 minutes. Finely chop
1 roasted red pepper
,
1 red onion
and a
small handful of sun-dried tomatoes
. Uncover the couscous and fluff up with a fork. Remove the garlic and stir through the chopped vegetables and
1 tbsp chopped parsley
. Place two squares of parchment paper on a baking tray and divide the couscous between the two. To each mound of couscous, add a salmon fillet and
2 slices of lemon
. Sprinkle with a little
parsley
,
salt and pepper
and wrap each parcel up. Bake for 10-15 minutes. Serve in the parcel.
Teriyaki salmon and noodle salad.

Serves 4

In a small pot, combine
4 tbsp soy sauce
,
2 tbsp honey
,
2
tbsp mirin or sherry,
1 crushed garlic clove
and
1 tbsp grated ginger
. Dissolve
1 tbsp cornflour
in a little water and add to the pot. Cook over a low heat, stirring constantly, until it becomes thick. Allow to cool to room temperature. Pour the teriyaki glaze over
4 salmon fillets
. Sprinkle with
2 tsp of sesame seeds
and grill for 12-15 minutes. In a bowl, combine
2 tbsp soy sauce
,
2 tbsp sesame oil
,
the juice of ½ a lime
,
1 chopped red chilli
and
1 crushed garlic clove
to make the dressing. Stir-fry a selection of vegetables such as
pak choi, peppers, onion, carrots, mangetout and baby corn
. Remove the wok from the heat and add
3 cooked nests of noodles
and the dressing. Toss together and serve with the salmon.
Homemade gravadlax

Serves 2

In a bowl mix together
2 tbsp vodka or gin
with
2 tbsp sugar, 5 tbsp sea salt, 6 crushed black peppercorns
and
2 tbsp chopped fresh dill
. Place a layer of about half of the salt mixture on the bottom of a sealable bag,
place 2 x 150g portions of salmon
on top and scatter over the remainder of the salt. Seal the bag, removing as much air as possible, and gently press and massage the cure into the fish. Leave in the fridge for a minimum of five hours before serving. To serve, thinly slice the gravadlax and serve with
crème fraiche, chopped dill
and
rye bread
.
Smoked salmon rillettes

Serves 6

Steam
160g fresh salmon
until cooked, then allow to cool. Flake the salmon apart with a fork. In a food processor, blend
200g smoked salmon,
40g crème fraiche
,
1 tbsp lemon juice
and
40g softened butter
with
salt and pepper
together until smooth. Stir in
1½ tbsp snipped fresh chives
and the flaked steamed salmon. Transfer to a bowl or jar and cover
with 50g melted butter
to form a seal. Serve with
Melba toast, lemon wedges
and a
mixed salad.
Salmon lasagne

Serves 4

Preheat the oven to
180°C/160° fan/gas mark 4
. Pour
1l milk
into a saucepan, add
1 bay leaf
,
1 strip of lemon peel,
4 peppercorns
, and
1 garlic clove
, bring to the boil and reduce to a low simmer. Place
400g skinless, boneless salmon
into the milk and poach for 10 minutes. Remove the salmon out and flake it apart using a fork. Strain the milk into a clean jug. Melt
50g butter
in a pot, add
50g plain flour
and stir to a paste; gradually add the reserved milk until you have a smooth sauce. Add
1 heaped tsp wholegrain mustard
and season well with
salt and pepper
. Spoon a layer of sauce into the bottom of a lasagne dish, then stir the fish,
2 tbsp chopped fresh tarragon
,
200g spinach
, and
1 bunch of halved asparagus spears
into the sauce. Make alternating layers of
fresh lasagne sheets
and the sauce mixture, continuing to the top of the dish and finishing with the a layer of sauce. Sprinkle
150g white Cheddar
over the top and bake for 30-40 minutes.
Popular in Fish & seafood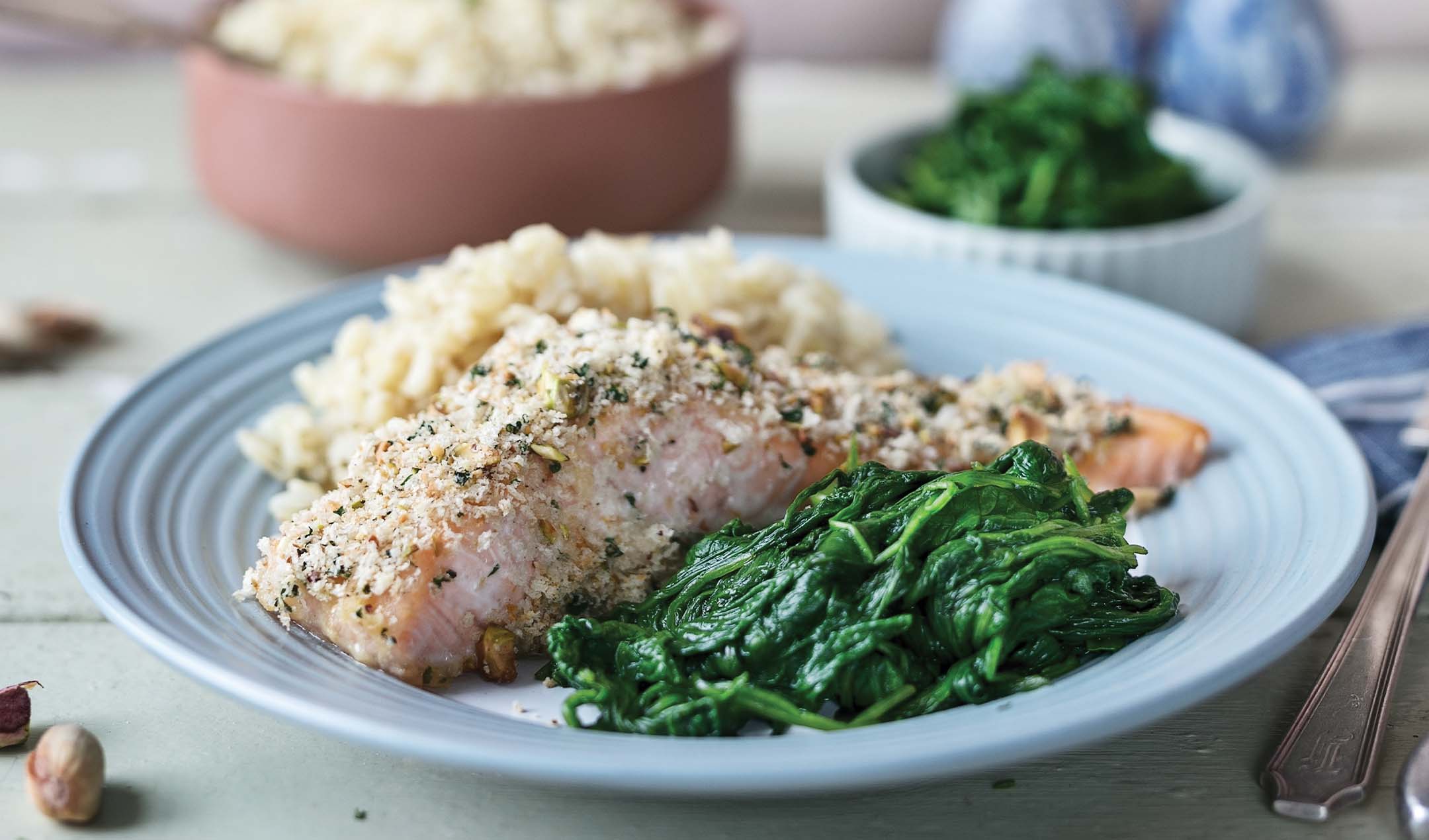 Pistachio crumbed salmon