Salmon Niçoise
Serves 2

---
Flake 250g leftover cooked salmon into chunks. Bring a pot of salted water to a boil. Cut 200g new potatoes in half and add to the pot. Cook for 7-8 minutes until barely tender. Add 100g green beans and cook for an additional two minutes, then drain and run under cold water. In a jar, combine 2 tbsp olive oil, the juice of 1 lemon, 1 tsp wholegrain mustard and a pinch of salt and pepper. Seal tightly and shake to combine. In a large bowl, combine 1 shredded butterhead lettuce with the salmon, potatoes, beans, dressing and 2 quartered hard-boiled eggs. Cut 4 ripe tomatoes into wedges and add to the bowl along with a handful of pitted black olives. Toss to coat. Divide between two bowls and serve.
---
Salmon quinoa cakes
Serves 4-6

---
Flake 450g leftover cooked salmon with a fork and place in a bowl. Add 200g cooked, cooled quinoa, 1 finely chopped spring onion, 4 tbsp chopped fresh parsley, 5 tbsp mayonnaise, 1 tbsp Dijon mustard, 1 beaten egg, 2 tsp fresh lemon juice and paprika. Season with salt and black pepper. Using clean hands, divide the mixture into 16 equal portions and shape into 4cm wide patties. Heat 1 tbsp olive oil into a pan over a medium-high heat. Working in batches to avoid crowding the pan, cook the salmon cakes for 4-5 minutes per side or until golden brown. Transfer to a serving plate and keep warm while you repeat with the rest of the cakes.
---
Salmon dip
Serves 6

---
In a large bowl, combine 230g soft cream cheese, 4 tbsp Greek yoghurt (or mayonnaise), 4 finely chopped spring onions, 1 finely chopped celery stalk, 1 crushed garlic clove, 1 tbsp Worcestershire sauce, 1 tbsp lemon juice and 1 tsp prepared horseradish. Cream together with a handheld electric mixer. Stir in 100g flaked cooked salmon, making sure to not overmix and leave pieces of salmon visible in the dip. Place in the fridge to chill, removing from the fridge 30 minutes before you're ready to serve.
---
Salmon, potato and dill omelette
Serves 1

---
Heat 2 tbsp olive oil in a pan over a medium-high heat. Add 3 cooked, cubed small potatoes and cook until golden brown on all sides. In a jug, beat 3 large eggs together with some salt and pepper. Add 100g flaked cooked salmon, 2 tbsp fresh chives and 2 tbsp fresh dill to the potatoes in the pan and stir to combine evenly. Pour in the egg mixture and reduce the heat to medium-low, swirling the pan so that the egg covers the entire bottom. Once cooked to your liking, fold one side over to create a crescent shape. Slide onto a serving plate and serve with toast.
---
Creamy salmon pasta
Serves 2

---
Bring a large pot of salted water to a boil and cook 180g linguine according to package instructions. Heat 1 tbsp olive oil in a large, heavy-based frying pan over a medium-low heat. Cook 1 crushed garlic clove for one minute, then stir in 200ml crème fraîche. Stir for two minutes. Add the juice of ½ a lemon and 2 tbsp chopped fresh dill. Flake 200g cooked leftover salmon, removing any skin and bones, and stir into the sauce. Season with salt and a generous amount of black pepper. Drain the cooked pasta and stir into the sauce until completely coated. Squeeze over some extra lemon juice and serve immediately topped with some fresh dill.
Popular in Leftovers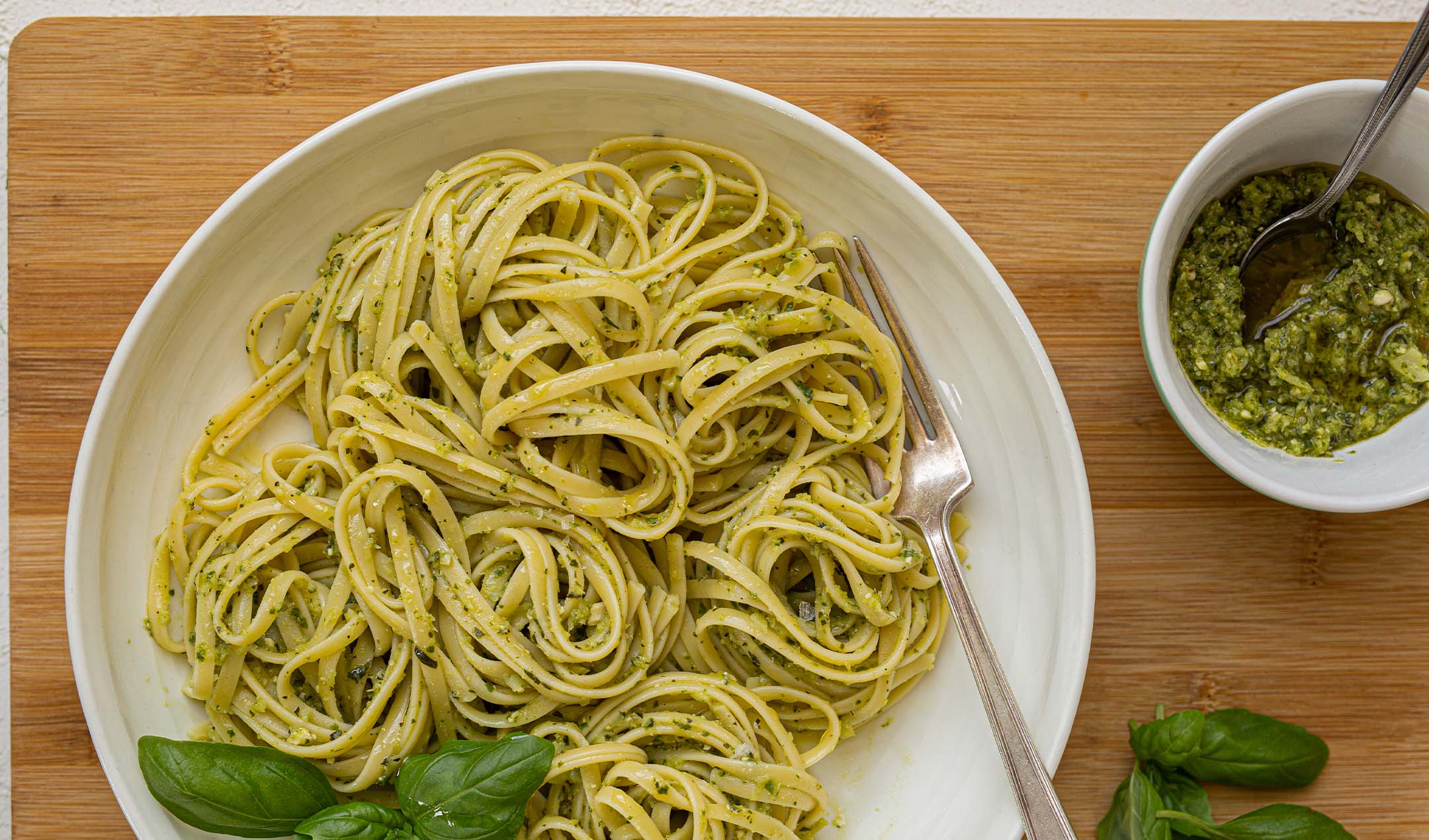 No-waste broccoli pesto pasta