Gambas al ajillo (sautéed prawns with garlic)

Serves 2

Heat
25ml olive oil
and
25g butter
in a shallow pan over a high heat. Add
325g raw, peeled prawns
and
2 crushed garlic cloves
to the pan and cook for 2-3 minutes. Add
2 tbsp lemon juice
,
½ tsp paprika
,
¼ tsp dried chilli flakes
and
2 tbsp chopped parsley
and toss until coated. Season with a little
salt and black pepper
and serve with a green salad.
Japanese-style prawn tempura

Serves 2-4

Preheat the oven to
120°C/100˚C fan/gas mark 2
. Slice
1 small aubergine
and
1 medium sweet potato
into ½cm thick slices, halve
4 mushrooms
and trim
8 mangetout
. Toss
12 raw, peeled and deveined prawns
in
50g plain flour
to coat. To make the batter, combine
1 egg yolk
with
425ml ice-cold water
,
¼ tsp bread soda
and
180g sifted plain flour
in a large mixing bowl. Heat a splash of vegetable oil in a deep frying pan until it reaches
190°C
for deep-frying. Coat the vegetables and prawns in the batter and carefully drop them into the hot oil, working in batches of 4-5 pieces at a time. Deep-fry until golden, turning half way through using chopsticks. Use a slotted spoon to remove the tempura from the oil. Drain on a plate lined with kitchen paper and place in a low oven to keep warm until all the tempura pieces are cooked. Serve with a dipping sauce made of
3 tbsp soy sauce
,
3 tbsp mirin or sherry
,
1 tsp honey
and
1 tsp grated fresh ginger
.
Creamy prawn linguine

Serves 4

Cook
300g linguini
according to packet instructions. Meanwhile, heat
3 tbsp olive oil
and
25g butter
in large saucepan over a medium heat and cook
2 crushed garlic cloves
and
1 finely chopped shallot
for 3-4 minutes until soft. Add
200ml dry white wine
and
100ml cream
and cook for 1-2 minutes until slightly reduced. Add
300g raw peeled and deveined prawns
and
1 tsp lemon zest
. Cook the prawns in the sauce until pink, then add the cooked pasta. Using a tongs, gently toss the pasta in the sauce. Season with
salt and black pepper
and sprinkle with some
chopped fresh parsley
to serve.
Prawn bisque

Serves 6

Heat
100g butter
in a large pan over a medium-high heat. Add
1 chopped carrot
,
1 chopped onion
,
1 bayleaf
,
1 sprig of fresh thyme
and
2 sprigs of fresh parsley
and sauté until golden. Add the
shells of
700g prepared prawns
, season with
salt and pepper
and cook until the shells change colour. Pour in
50ml of brandy
followed by
2 tbsp tomato
purée
,
200ml dry white wine
and
2l fish stock
. Stir together and add the
prepared
raw flesh of 700g prawns
. Simmer gently for 20 minutes. Remove and finely chop around 100g of the cooked prawns, reserving them for later. Use a stick blender to blitz the remaining soup ingredients until smooth. Mix
140g rice flour
and a splash of water into a paste and add to the soup. Simmer gently for 15 minutes and then strain the soup into a clean pan. Stir in
100ml cream
and
¼ tsp cayenne pepper.
Bring back to the boil, then serve garnished with the chopped prawns.
Sticky chilli prawn skewers

Serves 2

Soak
4 wooden skewers
in a water for 30 minutes. Drain the juice from
1 tin of pineapple chunks
. Peel and devein
100g fresh prawns
. Thread the prawns and pineapple pieces onto the skewers, alternating between the two. In a small bowl, combine
100g sweet chilli sauce
with the
juice and zest of a lime
. Coat the prawns and pineapple with the sweet chilli mixture and allow to marinate in the fridge for up to an hour. Preheat the grill or barbecue to a high heat and cook the skewers for 8-10 minutes, turning occasionally and basting with more of the sweet chilli mixture.
Popular in Fish & seafood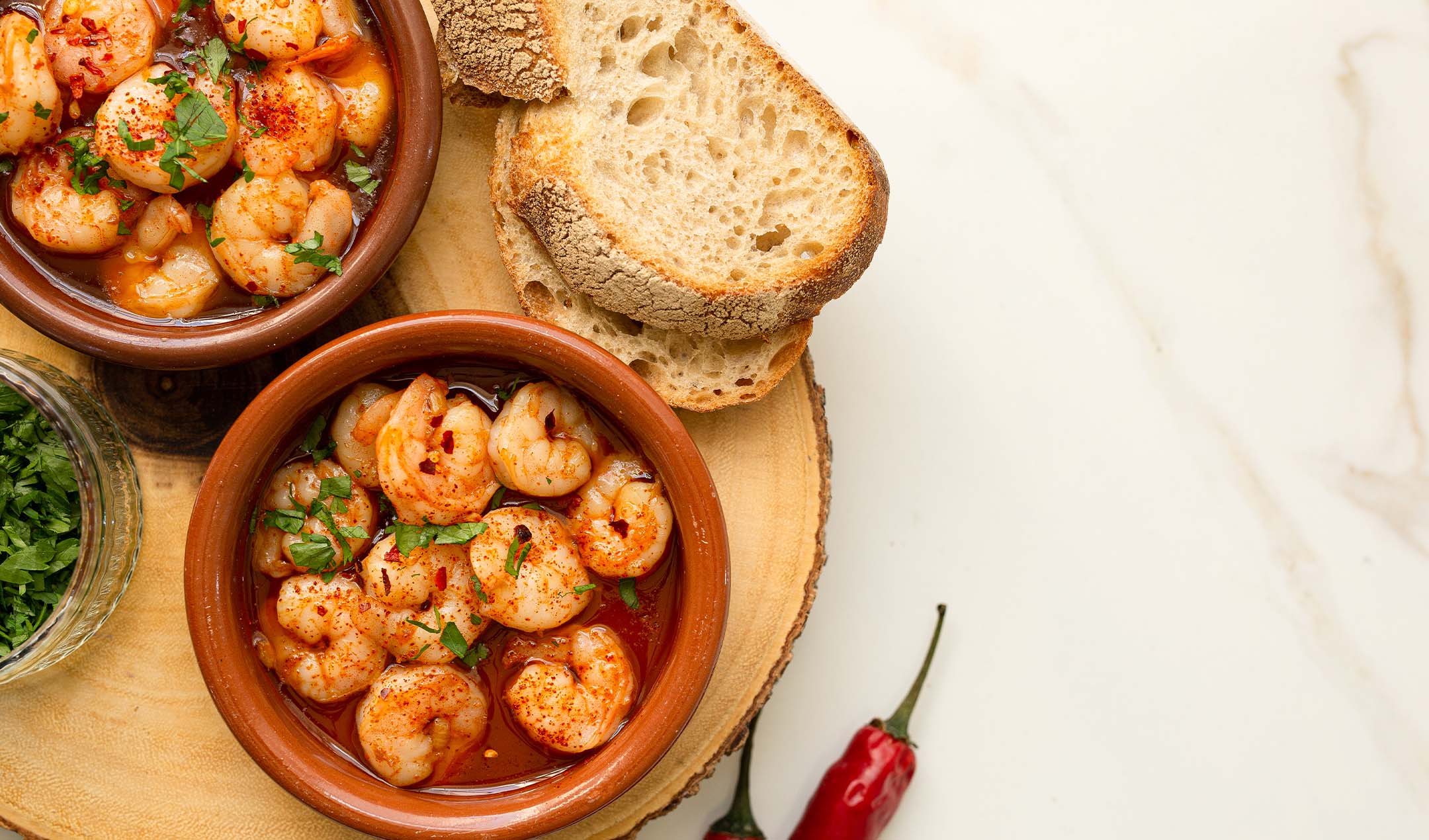 Gambas al ajillo