Pappardelle with salmon and greens
Serves 2
---
In a food processor, combine 60g grated Parmesan, 2 garlic cloves and 2 large handfuls each of baby spinach and watercress. Turn the processor on and slowly add 300ml olive oil until the mixture becomes liquid. Season and set aside. Preheat the oven to 200˚C/180˚C fan/gas mark 6. Season 2 x 180g salmon fillets. Heat 1 tbsp olive oil in a large pan over a high heat. Cook the salmon, skin-side down, for 5-6 minutes, then flip over and cook the flesh side for 2-3 minutes until cooked to your liking. Transfer to a plate. In the same pan you cooked the salmon in, combine 250ml cream, 180ml milk and a knob of butter. Bring to a boil and cook for 5-6 minutes. Season with salt and pepper and whisk in 4-5 tbsp of the pesto. Stir in 200g cooked pappardelle pasta, then divide between two bowls and top each portion with salmon.
---
Shrimp tacos
Serves 2
---
In a bowl, combine 180g chopped fresh pineapple, 1 chopped tomato, 1 finely chopped red onion, 1 finely chopped jalapeño, 4 tbsp chopped coriander, 1 tbsp apple cider vinegar and 1 tsp honey. Set aside. In a separate bowl, toss 600g raw, peeled and deveined prawns with the juice of 1 lime, a pinch of salt and ¼ tsp chilli powder. Heat 1 tbsp olive oil in a pan over a medium-high heat and cook the prawns for 1-2 minutes per side until pink. Serve the prawns on small corn tortillas with the pineapple salsa and some guacamole.
---
Smoked trout and egg potato salad
Serves 6
---
Cook 500g baby potatoes in a pot of boiling water for 7-8 minutes until just tender. Drain well and allow to cool a little, then slice. In a bowl, mix them with 2 tbsp white wine vinegar, 60ml olive oil and some salt and black pepper. Leave to cool completely. In a bowl, combine 120g sour cream with 2 tsp Dijon mustard and the juice of ½ a lemon, then set aside. Place 6 eggs in a saucepan of cold water over a high heat. Bring to the boil, then cook for 7-8 minutes. Run cold water over the eggs, then peel them and slice in half. Flake 400g smoked trout with a fork. In a bowl, gently combine it with 30ml olive oil, some seasoning, the potatoes with their dressing, 60g mixed leaves and a small handful each of fresh dill and chives. Transfer the salad to a platter and add the eggs. Spoon over the sour cream dressing and serve.
---
Baked hake with pea purée
Serves 4
---
Preheat the oven to 220°C/200˚C fan/gas mark 8. Cut four squares of parchment paper and grease with oil. Place 4 fillets of hake on the squares and top each with 1 finely chopped shallot, a knob of butter and a squeeze of lemon juice. Fold the parchment over the fish and roll along the edges to form a tight seal, leaving some space within the parcels. Place on a large baking tray and bake for 10 minutes. To make the pea purée, bring 250ml vegetable stock and 500g frozen peas to the boil in a saucepan. Cook for 3-4 minutes, then drain, reserving the stock. Return the peas to the pan. Add a large knob of butter and mash into a coarse purée using a potato masher, adding a little of the stock if necessary. Season with salt and pepper. Divide the pea purée among four plates. Top with the fish, drizzle over its juices and serve with lemon wedges.
---
Simple summer ceviche
Serves 4
---
Place 500g boneless white fish (skin removed) in a glass dish and pour over the juice of 4 limes. Cover and refrigerate for one hour. Add 1 deseeded, sliced red chilli, 1 finely chopped red onion, 6 ripe, deseeded, chopped tomatoes, 3 tbsp coriander leaves and 1 peeled, chopped avocado. Stir to combine. Serve with slices of crusty baguette and some extra lime wedges.
---
Did you know?
The citric acid in the lime juice "cooks" the fish in a ceviche but, because it's not cooked in the traditional sense, it's crucial to use very fresh fish.
Popular in Fish & seafood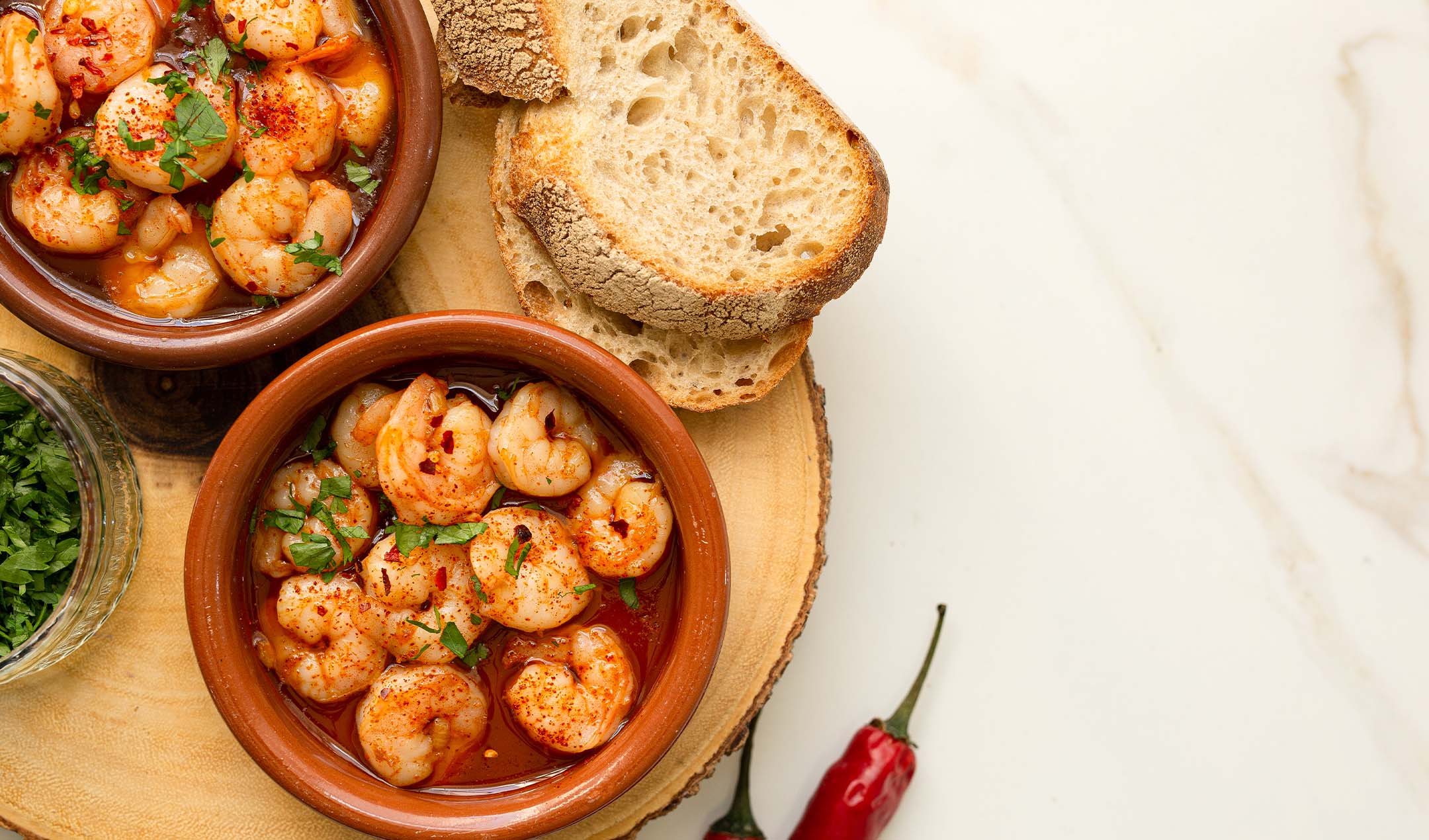 Gambas al ajillo