Thai fish cakes
Serves 4
Whizz 450g skinless cod fillets in a food processor until smooth. Add 1 egg, 1 tbsp Thai red curry paste and 1 tbsp fish sauce and blend until smooth. Transfer to a bowl and stir in 60g finely sliced green beans and 4 thinly shredded kaffir lime leaves by hand until well mixed. Wet your hands and shape into small patties no bigger than the palm of your hand. Place on a tray and place in the fridge to chill for one hour. Heat about 5cm of vegetable oil in a pan to 190°C for deep-frying. Carefully lower the fish cakes into the oil and deep fry until golden. Remove and drain on kitchen towel. Serve with some sweet chilli sauce.
Cod provençal
Serves 2
Heat 1 tbsp olive oil in a pan. Season 2 cod fillets with salt and pepper and place skin side down into the pan. Cook for 4-5 minutes until the skin is crisp, then remove from the pan and set aside. In the same pan, heat another 1 tbsp of olive oil over a medium heat and cook 1 deseeded, chopped red pepper, 1 finely chopped onion, 2 sliced garlic cloves and 1 finely sliced bulb of fennel for 4-5 minutes until softened and lightly coloured. Add 300g halved cherry tomatoes, 1 tbsp balsamic vinegar, 1 tsp sugar, ¼ tsp dried thyme, ¼ tsp dried oregano and 1 tsp chopped fresh basil. Cook for five minutes until the tomatoes are soft. Scatter in a handful of pitted and sliced black olives, 1 tbsp capers and the juice and zest of 1 lemon. Place the fish into the sauce, skin side up, and cook, uncovered, for 10 minutes. Serve with crusty bread.
Parma ham and pesto baked cod
Serves 2
Preheat the oven to 180°C/160° fan/gas mark 4. In a roasting tin, toss together 200g baby potatoes in 1½ tbsp olive oil with a pinch of salt and ½ tsp fresh thyme leaves. Cook in the oven for 35-40 minutes. Meanwhile, skin and trim 2 cod fillets. Lay each fillet on two sheets of Parma ham and spread each fillet with 1 tbsp of pesto before wrapping tightly in the ham. Place on a lined baking tray with 2 handfuls of cherry tomatoes. Drizzle everything with a little olive oil and add to the oven for the final 10-12 minutes of the potatoes' cooking time. Serve the cod with the potatoes and tomatoes.
Asian-style cod broth
Serves 2
In a saucepan, bring 1 x 400ml tin of coconut milk to the boil with ½ tsp turmeric, 1 chopped shallot, 1 bashed stalk of lemongrass and a chopped 3cm piece of ginger. Allow to simmer for 8-10 minutes to infuse. Add 200g cod, cut into chunks, 1 tbsp fish sauce and 1 tsp sugar. Simmer for five minutes until the fish is cooked. Add 100g fresh chopped tomatoes, 75g sliced mushrooms, the juice and zest of a lime, 2 sliced birds eye chillies and some salt and pepper and allow to simmer for another 10 minutes. Remove the lemongrass stalks. Serve the broth garnished with chopped fresh coriander.
Cod burritos
Serves 4
Preheat the oven to 180°C/160°C fan/gas mark 4. In a bowl, combine 2 tbsp olive oil, the juice of half a lime, ½ tsp chilli powder, ½ tsp cumin, ¼ tsp garlic powder and 1 tsp Tabasco sauce. Cut 450g cod fillets into 2½cm-thick strips. Coat the fish in the spice mixture and lay on a baking tray. Scatter over 1 sliced onion and 1 sliced pepper. Bake in the oven for 10-12 minutes. Warm 4 tortillas on a dry pan. To assemble each burrito, arrange some fish, peppers and onion in the middle of a tortilla. Top with your choice of rice, cheese, lettuce, guacamole, sour cream and salsa. Fold in the ends and roll the tortilla tight. Cut in half and enjoy.
Popular in Fish & seafood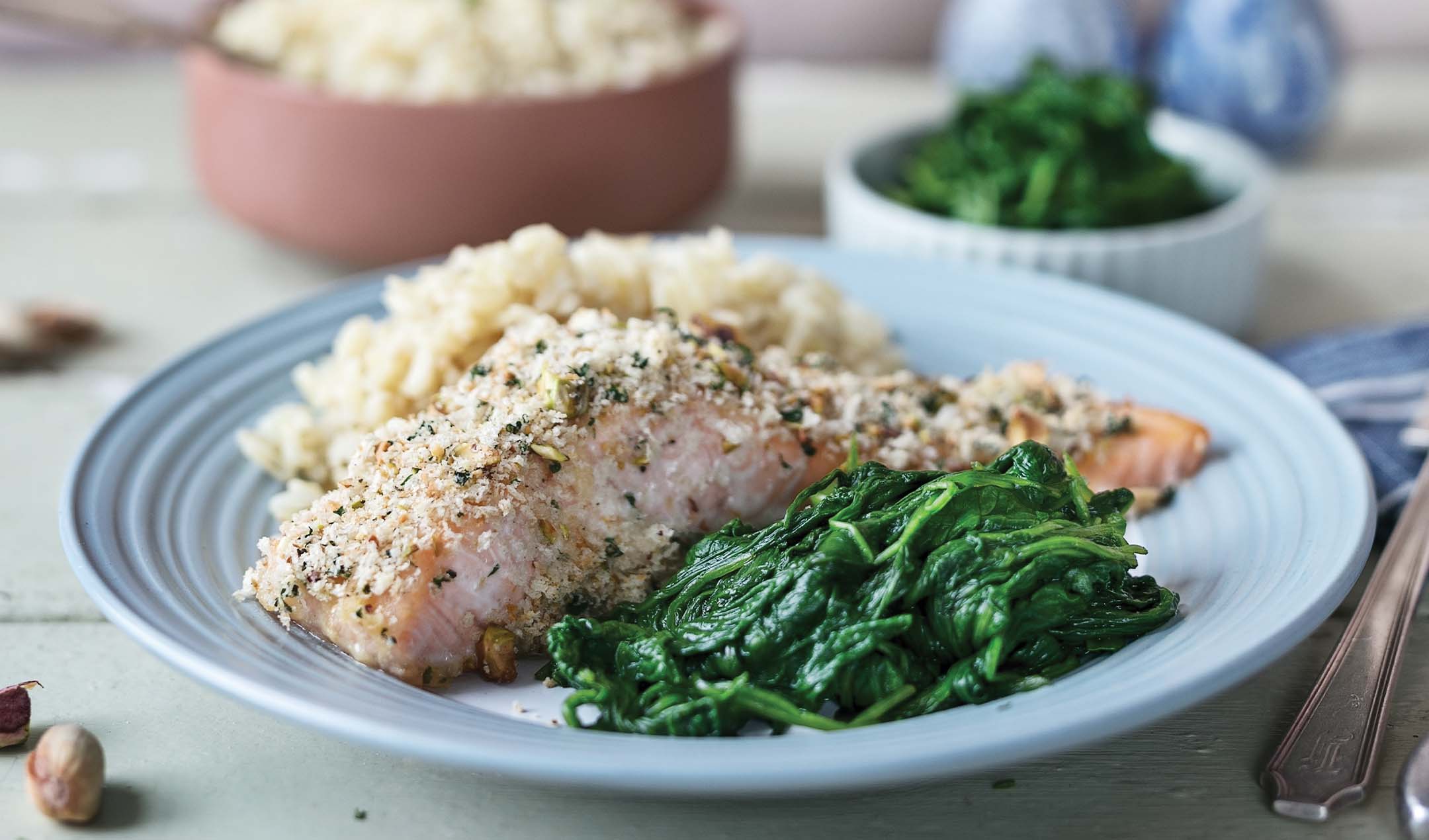 Pistachio crumbed salmon