Stracciatella (Italian egg drop soup)
Serves 4
In a measuring jug, combine
3 large eggs, 4 tbsp grated Parmesan, 1 tbsp chopped fresh parsley
and a
pinch of nutmeg
. Mix together well. Pour
2l chicken stock
into a large saucepan and place over a medium-high heat. When the stock begins to boil, reduce the heat to medium-low. Add
4 handfuls of fresh spinach
and simmer for 2-3 minutes until wilted. Use one hand to gently stir the stock in a circular motion and, with the other hand, slowly pour the egg mixture into the pan. Stop stirring and simmer for one minute. Season with
salt and black pepper
to taste. Serve immediately with additional
grated Parmesan
.
Hot and sour prawn soup
Serves 4-6
Pick the leaves from
1 bunch of coriander
and reserve. Chop the stems. Bring
2l chicken stock
to the boil in a large saucepan. Add the coriander stems with
2 peeled, chopped stalks of lemongrass, 5 kaffir lime leaves, a peeled and sliced 3cm piece of ginger, 3 crushed garlic cloves
and
2 tbsp fish sauce
. Simmer for 10 minutes. Add
350g peeled and deveined raw prawns, 100g sliced button mushrooms
and
3 sliced shallots
. Cook for 2-3 minutes until the prawns have changed colour. Add the
juice of ½ a lime
and
3 deseeded, chopped green chillies
. Divide into serving bowls and top with the reserved coriander leaves.
Chicken noodle soup
Serves 4
Pour
1.8l chicken or vegetable stock
into a large pan and add
2 chicken fillets, a 3cm piece of peeled, sliced ginger, 1 deseeded and sliced red chilli
and
2 crushed garlic cloves
. Bring to the boil, then reduce the heat, partly cover and simmer for 20 minutes until the chicken is cooked. Remove the chicken to a board and shred using two forks. Return the shredded chicken to the stock. Add
150g rice noodles, a 150g tin of sweetcorn, 6 sliced mushrooms, 4 chopped spring onions
and
1½ tbsp soy sauce
. Simmer for 3-4 mins until the noodles are tender. Divide between serving bowls and garnish with
chopped basil or coriander, extra chopped spring onions
and
sliced chillies,
if desired.
Spicy corn and tomato soup
Serves 4
In a large pot, bring
1l vegetable stock
to a gentle simmer. Add
1 tbsp ground cumin
and
4 crushed garlic cloves
. Cover with a lid and simmer for five minutes. Cut a cross in the bottom of
8 tomatoes
and place them into the stock. Cover and simmer for 2-3 minutes. Remove the tomatoes and skin them, de-seed them and chop the flesh. Squeeze as much liquid as you can from the seeds and return that to the stock along with the chopped tomatoes,
2 x 150g tin of sweetcorn, 2 chopped carrots, 1 deseeded, sliced jalapeño, 1 tsp dried oregano
and
1 tsp dried coriander
. Mix
1 tsp paprika
with
2 tsp water
to form a paste and stir this into the soup. Cook for 2-3 minutes, then season to taste. Serve garnished with
extra sliced jalapeño, fresh coriander
and some
sliced spring onion
.
Winter vegetable broth
Serves 6
Heat
2 tbsp olive oil
in a large pot over a medium heat. Add
1 chopped onion
and
3 chopped carrots
. Cook, stirring occasionally, for 6-8 minutes or until the vegetables begin to soften. Add
4 crushed garlic cloves
and cook for one minute. Add
1 peeled and chopped butternut squash, 2 chopped potatoes, 1 large chopped courgette
and
2 large handfuls of shredded cabbage
. Add
1 tsp salt, ½ tsp ground sage, a pinch of cayenne pepper
and
½ tsp all-spice
. Stir to combine. Add
1.4l vegetable stock, 1 x 400g tin of chopped tomatoes
and
5 sprigs of thyme
. Stir and bring to a boil, then reduce the heat to medium and simmer for 10 minutes. Add
2 large handfuls of chopped kale
, stir, and simmer for an additional 10 minutes. Once the kale is fully wilted, discard the thyme sprigs and season to taste.
Why not try these delicious juice recipes?
Popular in Soup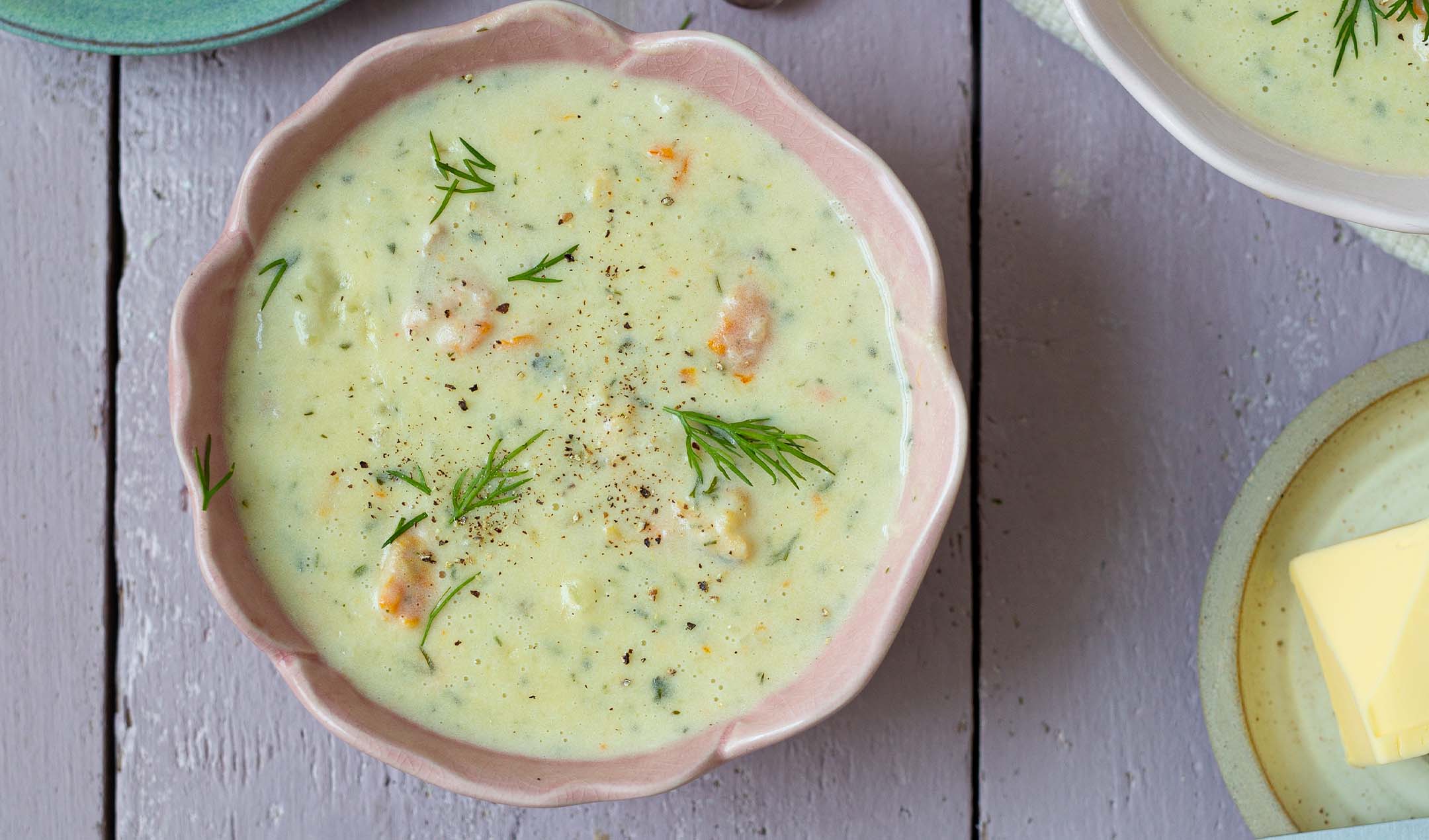 Super creamy chowder