Cheesy sun-dried tomato pasta bake
Serves 6
Bring a large pot of salted water to the boil and cook
450g penne pasta
for five minutes, then drain. Preheat the oven to 190˚C/170˚C fan/gas mark 5 and grease a 23 x 33cm baking dish. Add
2 x 400g tins of plum tomatoes
, crushing the tomatoes with your hand. Add
2 tbsp tomato pureé, 10 chopped sun-dried tomatoes
with
2 tbsp of the oil
from their jar,
280g thawed frozen spinach, 4 crushed garlic cloves, 2 tsp dried basil, 2 tsp dried oregano, ½ tsp chilli flakes, 250ml red wine, 350ml vegetable stock
and some
seasoning
. Stir to combine well. Add the half-cooked pasta along
200g grated Cheddar
and
60g grated Parmesan
. Toss to coat everything evenly. Tightly cover the baking dish and bake for 40-45 minutes. Uncover and tear a
250g ball of Mozzarella
over the top. Bake for 15 minutes or until the cheese is melted and bubbly. Serve with a
green salad
.
Chicken and vegetable tray bake
Serves 4-6
Preheat the oven to 220˚C/200˚C fan/gas mark 7. Chop
2 red onions, 1 courgette, ½ a medium head of broccoli, 3 carrots
and
1 small aubergine
into bite-sized pieces. Arrange the vegetables in the bottom of a baking dish with
10 whole garlic cloves
and
200g cherry tomatoes
. Drizzle with
1½ tbsp olive oil
and
1½ tbsp balsamic vinegar
, season with
salt, black pepper
and
1 tsp Herbes de Provence
and toss to coat everything. Rub
900g chicken drumsticks, thighs or a mixture
with
olive oil
, sprinkle generously with salt and pepper and place on top of the vegetables. Bake for one hour or until the chicken is thoroughly cooked, then let the chicken pieces rest on a serving platter for 10 minutes. Squeeze the garlic cloves out of their skins and return to the vegetables. Serve the chicken with the roasted vegetables and garlic.
Blue cheese and rosemary toad-in-the-hole
Serves 4
Preheat the oven to 240°C/220˚C fan/gas mark 9. In a jug, whisk together
3 large eggs, 110g plain flour
and
280ml fresh milk
. Allow to rest for 40-45 minutes. Pour enough vegetable oil into a large roasting tin to cover the bottom. Place in the oven until the oil begins to smoke, then add
8 sausages, 1 sliced red onion
and
150g bacon lardons
. Cook for 15 minutes, turning the sausages halfway, until everything is browned and the oil is smoking hot once again. Remove from the oven and, working as quickly as possible, pour the batter mix over and around the sausages. Dot
150g blue cheese
over the top and scatter with
3 tbsp chopped rosemary
. Carefully return to the oven and cook for 25-30 minutes until risen, crisp and golden.
You may also like this olive and tomato quick bread....
French onion gnocchi bake
Serves 4-6
Preheat the oven to 190˚C/170˚C fan/gas mark 5. Heat
50g butter
with
2 tbsp olive oil
in a large pan over a medium heat. Add
1.1kg onions
, stirring to coat, then cover and cook for 10 minutes. Add some
salt, black pepper
and
½ tsp sugar
, stirring well. Cover and cook for another 30 minutes, stirring often. Stir in
2 tbsp flour
and cook for another minute before adding
120ml white wine, 1.2l beef stock, 1 tbsp fresh thyme leaves
and
1 bay leaf
. Bring to a simmer and cook for 25-30 minutes. Season to taste and remove from the heat. Cook
450g gnocchi
according to package instructions, then drain and place into a baking dish. Pour the onion mixture over the gnocchi. Top with
200g grated Gruyère
and bake for 20 minutes or until the cheese is golden-brown and bubbling. Serve immediately.
Smoky bean and bacon bake
Serves 6
Preheat the oven to 170˚C/150˚C fan/gas mark 3. Heat a large pan over a medium-high heat and cook
4 smoked rashers
for five minutes or until crisp. Remove the bacon using a slotted spoon, leaving the fat in the pan. Set the bacon aside. To the same pan over a medium heat, add
2 chopped onions, 1 chopped green pepper
and
6 crushed garlic cloves
. Cook for 6-8 minutes or until tender, stirring occasionally. Remove from the heat and cool slightly. In a large bowl, combine
180ml tomato sauce, 50g brown sugar, 1 tbsp honey, 1 tbsp Dijon mustard, 1 tsp smoked paprika, ½ tsp chilli flakes
and some
salt and black pepper
. Stir in the onion mixture along with
3 x 400g tins: one of chickpeas, one of kidney beans and one of cannellini beans
. Coat a baking dish with cooking spray and ladle in the beans. Scatter with the reserved bacon and bake for 30 minutes. Uncover and bake for an additional 30 minutes. Serve with
fried eggs
.
Popular in Family meals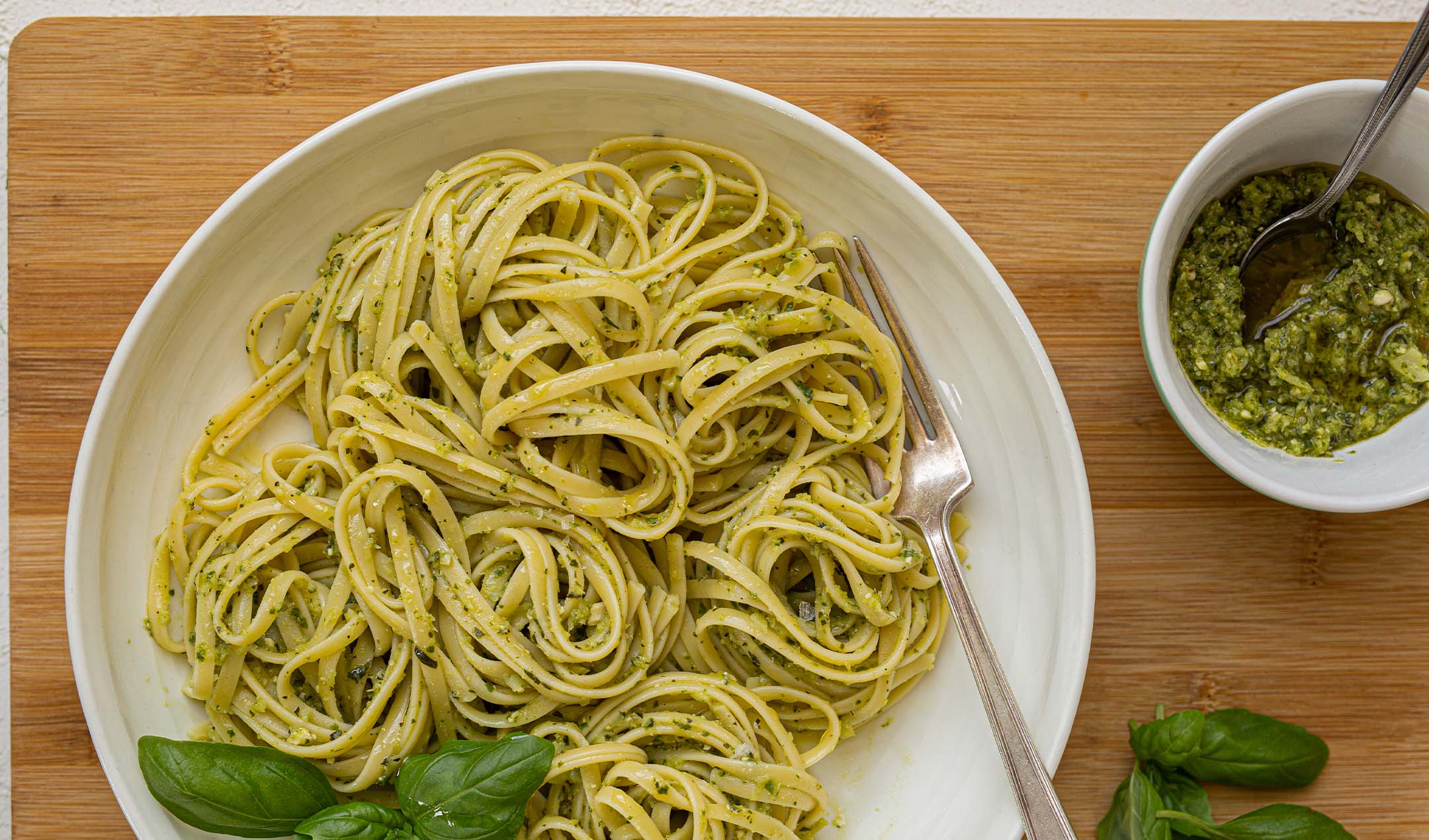 No-waste broccoli pesto pasta