Sweet and salty cashews
Serves 4
Preheat the oven to 190°C/170°C fan/gas mark 5 and line a baking tray with parchment paper. In a bowl, combine 250g raw cashews, 1 tbsp honey, 1 tsp sea salt and the juice of ½ a lime. Spread the nuts in a single layer on the prepared baking tray. Bake for 20-25 minutes, stirring every 10 minutes. Allow to cool before eating.
Spicy roasted chickpeas
Makes 4 large or 8 small servings
Preheat the oven to 200°C/180°C fan/gas mark 6.  Drain and rinse 2 x 400g tins of chickpeas. Place them in a single layer on a plate lined with kitchen paper and dry thoroughly. Transfer to a bowl. Add 1 tbsp olive oil, 1 tsp cumin and a pinch each of salt, pepper and cayenne pepper. Stir to coat the chickpeas. Place the chickpeas in a single layer on a rimmed baking tray. Bake for 25 minutes, shaking the baking tray halfway through. Allow to cool, then pack into sealable bags.
Strawberry chia fruit leather
Makes about 700g
Preheat the oven to 200°C/180°C fan/gas mark 6. Line a baking tray with a silicone mat. Wash and dry 700g strawberries. Remove the stems and chop them roughly. Place into a blender and whizz into a smooth purée. Add 2 tbsp chia seeds and pulse to combine. Pour the purée onto the silicone mat and use a spatula to spread evenly to about 1/2 cm thick. You may need to work in two batches depending on the size of your baking tray and mat. Bake for 3-4 hours or until completely dried out, checking after three hours. Use a scissors to cut the leather into strips. Store in a sealable bag or an airtight container for one month.
Curried carrot crisps
Makes 2 servings
Preheat the oven to 180°C/160°C fan/gas mark 4.. Spray a large rimmed baking tray with cooking spray. Trim and peel 3 carrots, then use a vegetable peeler to peel them into very thin strips. Place in a large bowl and toss with 1 tbsp olive oil, 2 tsp curry powder and some salt and pepper. Transfer to the prepared baking tray in a single layer. Bake for 10-12 minutes or until just starting to brown. Place the baking tray on a wire rack and allow to cool for 5-10 minutes until the carrot chips are crisp. Carefully remove from the baking tray and store in an airtight container for up to five days.
Sweet potato egg cups
Makes 12
Preheat the oven to 180°C/160°C fan/gas mark 4. Grease a 12-hole muffin tin with oil or butter. Peel and grate 1 sweet potato, then place in a clean tea towel and squeeze out any excess water. Place the sweet potato in a bowl and add 1 tsp olive oil, a pinch of chilli powder and some salt and black pepper. Line the bottom of the muffin tin cups with the sweet potato mixture, pressing it into the bottom and up the sides. Bake for 20 minutes. Beat 10 eggs together with 2 tbsp chives and 40g grated Parmesan. Pour the mixture into the sweet potato cups. Bake for 20-25 minutes or until the eggs are set. Store in an airtight container in the fridge.
Popular in Lunchbox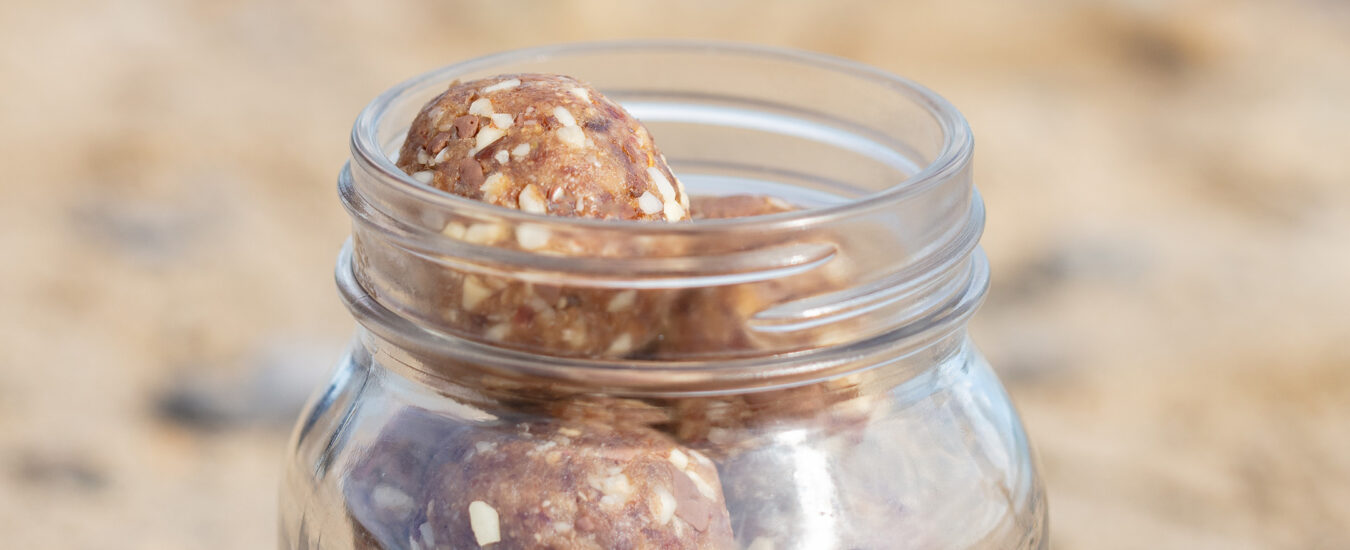 Build-your-own energy balls