Five-minute pitta nachos
Serves 1
Lightly toast 1 whole-wheat pitta according to package instructions. Split into two rounds, then cut into wedges. Place under a preheated grill until golden, then sprinkle with grated Cheddar and salsa and broil until the cheese melts. Top with sliced spring onions.
Sriracha butter popcorn
Serves 4
Coat the bottom of a large pot with rapeseed oil and add 100g popcorn kernels. Cover and place over a medium high-heat. Once you hear the first kernels pop, keep shaking the pan every 30 seconds or so until all the corn has popped. Remove from the heat and transfer the popcorn to a large bowl.
Place 40g butter in a small bowl and add 2 tsp sriracha hot sauce. Melt together in the microwave, then drizzle over the popcorn and toss to coat.

Frozen yoghurt blueberries
Makes about 300g
Wash 180g blueberries. Line a baking tray with parchment or wax paper and place 150g Greek yoghurt (any flavour) into a bowl. Add the blueberries and stir to coat, then place the coated berries on the baking tray. Separate them so they are not touching, then place in the freezer for two hours. Transfer the blueberries to a freezer bag and store until snack time.
Garlic and Parmesan bread chips
Serves 2
Preheat the oven to 170°C/150°C fan/gas mark 3. Melt 50g butter with 2 chopped garlic cloves. Slice 1 stale baguette into thin rounds and place on a baking tray. Brush with the melted garlic butter and sprinkle with grated Parmesan. Bake for 10 minutes, then flip over. Brush with more garlic butter, sprinkle with more grated Parmesan and bake for 8-10 more minutes until golden.
Quick seared egg
Serves 1
Heat ½ tbsp olive oil in a small pan over a medium heat until shimmering. Cut 1 hard-boiled egg in half and add to the pan, cut-side down. Cook for 2-3 minutes until crisped. Remove from the pan. Season with a pinch of salt and black pepper and a drizzle of hot sauce, if desired. Serve immediately.
Popular in Snacks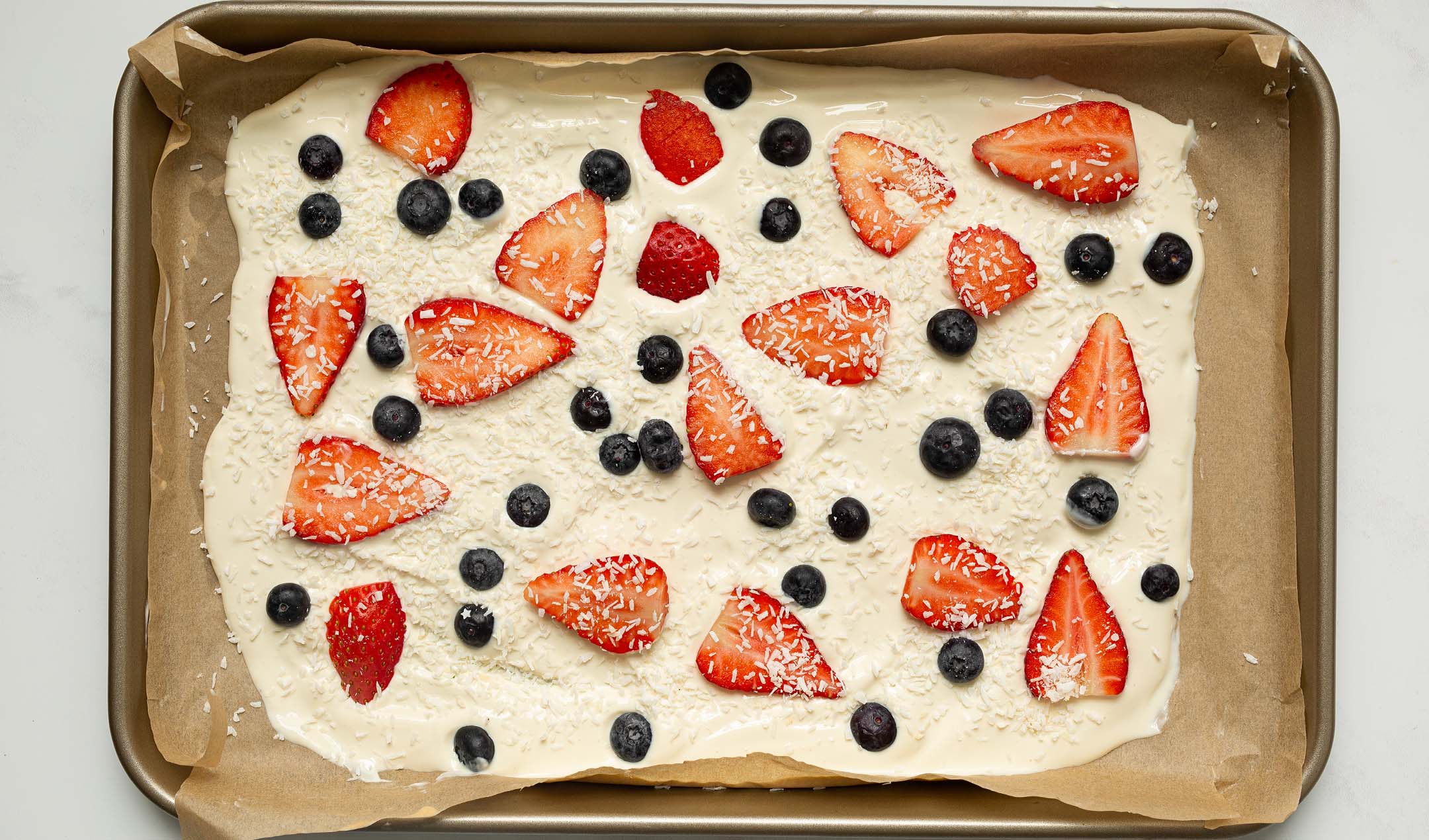 Yogurt bark